Not quite springtime, but winter
still warmly welcoming
By Patricia Tennison
www.ParisCafeWriting.com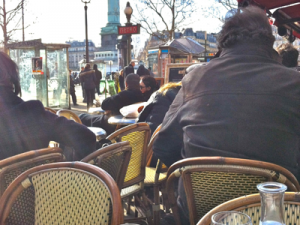 Many February days this year were sunny enough to sit anywhere outdoors—with your coat on, mais oui. On the grayer days, we all try to grab one of the outdoor tables farther back, under a heater.
If you order just a drink, the waiter places it on the hard, round table. If you want a meal—voila!—he pulls out out a crisp, white tablecloth, then crowds the little table with a basket of sliced baguette, maybe some mustard, and always the cendrier (ashtray). The French haven't given up smoking, though restaurants try to move it outdoors.
Winter also calls for for the richer, creamy French cheeses. Our  neighborhood fromagerie had such a beautiful display of Saint Marcellin fermière au lait cru from the Rhône-Alpes region that I couldn't resist two: one for Paris and one to take home to Chicago. 
Plaster of Paris?
Very little of my time, however, was spent relaxing at cafes and nibbling cheese. Joe and I had to renovate the 200-year-old ceiling in our apartment, and like the descriptions in books about renovation work in France, it was a physical and emotional mess.
I have a lot of new vocabulary to go with the plaster dust everywhere. More on that to come.
Cutting-room floor
That other, serious-looking photo? That's me, playing a U.S. Senator in the movie "Contagion," part of which was filmed in Chicago. Alas, the whole scene was cut, so no one will see this episode of my adventures as a movie extra—or figurante, in French.
(The scarf—silk on one side, cashmere on the other—was made by a young artist in Paris. I bought it at a holiday bazaar one December, but when I returned the following year to perhaps buy another, the artist wasn't there. Lesson learned.)
Conventionally unconventional
This week I will be attending the 2012 convention of the Association of Writers & Writing Programs, which is here in Chicago. If any of you will also be here, let me know! I'd love to meet you.
The photos: Left to right: Saint Marcellin fermière au lait cru cheeses (3.20 euros apiece) at a Paris fromagerie; a cafe in winter at Place de la Bastille; Patricia Tennison as a U.S. Senator in the movie "Contagion."
To email or to unsubscribe: info@www.pariscafewriting.com
Copyright 2010 Paris Café Writing–All Rights Reserved