11 Ways to Save Money in Paris
By Patricia Tennison
www.ParisCafeWriting.com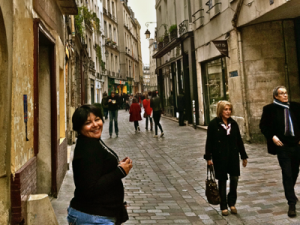 Paris can be expensive, but there are several ways to be thrifty while truly French. A question from Katie of Missouri inspired me to share a few of my favorites:
1. Travel off-season

You will save on the airfare and hotels in the late fall or winter. The average temperature then is 40 to 50 degrees Fahrenheit, but Parisians still enjoy sitting outdoors in the cafes under overhead heaters and draped in the latest scarves.
2. Bring a friend or two

This can cut the price of a hotel or apartment by one-half or one-third. 
3. Rent an apartment

Living in an apartment is especially economical for two or three traveling; you're simply splitting the rent two or three ways. Plus, you have a real excuse to browse the outdoor food markets and prepare some meals. (Very near us is Les Enfants Rouge, the oldest covered food market in Paris. Instead of flowers, buy a tempting arrangement of fruits and vegetables—then eat them!)
4. Buy (most) euros in Paris

Make a small dollar-euro exchange at home or at the airport. It's good to have about 100 euros when you arrive to cover a taxi and maybe that first meal. Once in Paris, use your ATM card to get a better exchange rate. There are plenty of ATMs. You stick in your card, punch in the amount you want, and the machine withdraws dollars from your bank and spits it out in euros. (No one uses traveler's checks anymore—if you are even old enough to remember them.)
5. Bread, cheese & wine

The Paris Cafe Writing week includes seven major meals (lunch or dinner), plus many continental breakfasts. For your other meals, keep it simple. A sandwich made from a fresh baguette and some cheese from the fromagerie is memorable—and cheap. Remember, you would have to buy food at home that week anyway.
6. Drink like a Parisian

A little cup of coffee on the Champs Elysées costs 5 euros. Instead, head to a cafe on a side street, where is costs about 3 euros at a table. Even better, stand at the counter with the neighborhood crowd and pay only 1 or 2 euros. Wine is cheaper than soda pop, and you don't have to order by the bottle. Do what the locals do and split a carafe of table wine. And, though bottled water is a lovely temptation, the tap water in Paris is excellent. Just say  "une carafe de l'eau, s'il vous plait." It's free.
7. Shop in your closet

Paris, like major cities in the U.S. and Canada, has become much more casual. Jeans are everywhere, even in the evening. That said, bring your best jeans—no rips. Select a few dressy tops, ones that pack well and look good with a piece of jewelry or a scarf. The only item you might have to buy is a pair of comfortable but attractive walking shoes. Tip #1: If you want to stand out from the sea of jeans, pack a simple dress. Just make sure it looks good with walking shoes. Tip #2: Black is in. Always.
 
8. Hit the bricks

Paris is one of the world's best cities for walking. And it's free! Paris Cafe Writing is based in the center of town, so if you are a decent walker, you won't need many Metro tickets. Some of the streets are cobblestoned, so break in the walking shoes at home. (Bulky gym shoes are not cool in Paris. Think casual, but stylish. Look at brands by Ecco, Mephisto, or Taos. I like to browse www.TheWalkingCompany.com for ideas.)
9. Take the bus from the airport

Instead of a 50-euro taxi ride, take the Roissy bus for about 11 euros from Charles de Gaulle Airport to Place de l'Opera, then a local bus for 1.20 euros to your hotel or apartment. However, you need to speak enough French to ask directions—and understand the answers. It's a little tricky to find the bus stop at the airport and at Place de l'Opera.
10. Cash in on socialism

The French pay heavy income taxes, and you can enjoy some of the benefits they get in return. For example, major museums are owned by the government and some nights are free. Paris provides free outdoor concerts in summer and ice skating in winter. (The bread is also subsidized, and that's why you can buy that baguette for less than 1 euro.)
11. Resist touristy trinkets

Bring a small digital camera or use your iPhone take hundreds of photos. The memories will keep you inspired—and writing—for years.
The photos: Left and right: fresh baguettes; Paris Café Writing participant Madeline walks along rue des Rosiers; café crème at a Paris cafe.
To email or to unsubscribe: info@www.pariscafewriting.com
Copyright 2010 Paris Café Writing–All Rights Reserved