Parapluies Simon in Paris
By Patricia Tennison
www.ParisCafeWriting.com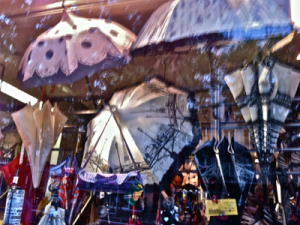 The first thing I bought on my first trip to Paris was an umbrella.
It was 1967, and I suddenly needed one. From high school French I knew how to pronounce parapluie—a melodious word that is still fun to say—and I went into a department store and bought a small, cheap umbrella. Baby blue.
I loved it for maybe 15 years until it finally fell apart, until it gave up its role as the perfect device to re-open memories of Paris.
You can do the same—but even better.
Parapluies Simon
As you walk from the Seine down Boulevard St. Michel toward the Luxembourg Gardens, there is a small shop with an ornate overhead sign: Parapluies Simon.
This has to be the most beautiful umbrella shop in Paris.
The window display looks like a torrent of invisible Mary Poppinses with only the floating umbrellas in polka dots, bows, and ruffles.
Some are parasols meant to protect skin from the sun, and I have seen tourists, particularly Asians, deliberating over which one to bring home. Others are meant for rain and come with serious wooden handles in the shape of a hook or—I don't understand why—in the shape of a "T."
One recent item on display was too much to resist: a large umbrella with sketches of old-time gas lanterns and wrought-iron rails, finished with a thick ruffled border, all in black and white. I entered.
Behind the counter was Chantal Voisin, whose grandfather started the shop in 1897. She works upstairs in the atelier making designs and doing repairs, but her other art is sales.
One by one, she opened umbrellas for me and twirled them for effect. There was no hurry. There was time to talk. There was time to excuse herself as she made a quick sale to a woman who wanted just a small fold-up model.
The simple fold-up models are about 25 euros, or $32. That's about the same price as a decent one from a department store, but neither feels, well, special.
Carried away by Guy de Jean
For that, you have to move up. The romance and ruffles one that caught my eye was a sobering 149 euros or $191. It's made by Guy de Jean, a high-end label made in a workshop in Donzy, near Sancerre. It's fairly light. The mechanism is smooth and solid. The "T"-shaped handle, which looks like a flat bow, began to feel good in my hand. And the umbrella was pretty.
So, as too many of us women too often do, I decided to get it—but as a gift.
Nothing pleases a Parisian shopkeeper more than to wrap a gift.
"Ah, un cadeau!" Mme. Voisin said, as she reached for a protective cloth sleeve printed with the Guy de Jean Paris label.
The umbrella and protection then slid into a cardboard packet with a Pierre Vaux label, one of the many other high-end lines the shop carries, along with Jean-Paul Gaultier and Longchamp. Then she added a ribbon, twisted into a carrying handle.
I could now take this on a plane as a free carry-on, she explained. And I did.
The stunning umbrella from Paris is now the prize that I am giving away at the convention of the Association of Writers and Writing Programs in March in Boston.
See Chantal Voisin in action on the Parapluies Simon website: http://www.parapluies-simon.com
The AWP Convention
If you are in Boston in March, stop in and see me at the convention of the Association of Writers and Writing Programs, March 6–9, at the Hynes Convention Center, 900 Boylston St. About 9,000 member writers and book lovers will be milling around, but the event is also open to the general public on Saturday, March 9. Find me at table A4—and maybe you'll win the Guy de Jean umbrella!
For more information on AWP: www.awpwriter.org
The photos: From the left, Chantal Voisin modeling the umbrella in her family boutique; the window display at Parapluies Simon, 56 Boulevard St. Michel, Paris 75006; the $191 Guy de Jean umbrella that I bought in Paris to give as a raffle prize in Boston.
To email or to unsubscribe: info@www.pariscafewriting.com
Copyright 2010 Paris Café Writing–All Rights Reserved