Mother-of-the-Bride Dress
By Patricia Tennison
www.ParisCafeWriting.com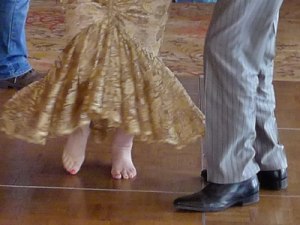 There are certain fantasies that fall on your shoulders when you live part-time in Paris.
According to those fantasies, I spend hours every morning sipping coffee in a cafe. I skip home with a long baguette gracing my arm—and then I shop. Like a skinny gazelle, I flit from Dior to Yves St. Laurent, gasping with joy at the latest day dress, cocktail dress, opera dress, cheese dress, macaron dress.
But the truth is that I hate to shop for dresses in Paris. My dress size is no longer in single digits. I haven't worn high heels in decades. And I am very happy—or I was very happy—to remain this way.
Until the wedding.
"Well, you are going to buy the dress in Paris, yes?"
The mother-of-the-bride dress. The next-most-important-that-I-would-ever-wear dress. The I-can't-embarrass-her-by-wearing-wool-plaid dress.
Merde. Excuse my French.
(Actually, that's not that bad a word to say in French. Just slightly unlady-like.)
I started by walking into the bridal section of the upscale Galleries Lafayette department store. I expected something like the David's Bridal chain back in the States, a one-stop shop that carries dresses for the bride, the bridesmaids, and the mother of the bride, plus jewelry, headgear, footgear. The works.
Mais non. This is Paris. Would you sell candy in a patisserie? Bread in a fromagerie?
The bridal department sells que bridal dresses. For the bride. For the dress for la mère de la mariée, the salesgirls suggested that I look in the many boutiques within the department store.
For their September wedding in Estes Park, Colorado (five days before the devastating floods), Ashley and Tim had designed a "safari" wedding, so I was looking for something long and apropos to a "safari."
I started again, and slithered into Dior, drawn by a stunning dress in the corner. It was long and black in a rich material that would beautifully hang instead of cling; the full-length sleeves were leopard, oh, my! The price tag: 7,000 euros, or about $9,500. I wondered how many people before me also had backtracked off that trail.
The next price tag that I turned over was for a dress by Yves St. Laurent. Why not? I was just looking and this next one was a style that I had admired on an actress in Chicago. Hers was a pretty lace dress with a silky underdress, and she whispered that she had bought it at Target. No matter how you pronounce Target, that was not going to fulfill my obligation to buy the dress in Paris. The lacy Yves St. Laurent dress with silky underdress—a fashion I would then notice in many Paris stores this season—was 1,700 euros, or about $2,300.
The next day I headed in another direction, up just a few doors on our street. It wasn't until a few days later that a friend would tell me that La Jolie Garde-Robe, 13 rue Commines, is where French celebrities often browse for the one-of-a-kind dress or that purse or shawl that only the fashionistas can once again make cool. To me, it was that store next door that was never open.
This day, it was open. And just past the all-feather jacket was ... my dress. It was a gold color—a good neutral, mother-of-the-bride choice—lacy, long, with deep flounces that twirled as I stood before the small mirror. Marie, the owner, said it was Italian couture, circa 1980. Fabulous. And so was the price: 250 euros, or about $338. Sold!
The underdress was long lost, but elsewhere I found a simple cotton sheath for about 12 euros ($16). To achieve the safari theme, animal print shoes—very big this season in Paris—were easy to find (110 euros, or $150).
When I landed in Chicago, all that was missing was the purse. However, colleague Ellen Warren, the shopping and fashion columnist for the Chicago Tribune, pointed me across Michigan Avenue to the Charming Charlie chain store where they had a matching (!) leopard purse for about $30. Voila!
Add a French twist hairdo and the head-to-toe obligation was complete.
The photos: From left to right, (1) Patricia Tennison, dancing with guest Christian Robinet, chef/owner of Le Cellar restaurant in Paris, who traveled to the Colorado wedding with two bottles of vintage champagne for the head table. (2) The deep flounces of the vintage Italian, now mother-of-the-bride dress. (3) In-style, 9-centimeter heels from Paris, plus purse from Charming Charlie, Chicago.
To email or to unsubscribe: info@www.pariscafewriting.com
Copyright 2010 Paris Café Writing–All Rights Reserved