Chez Michou: Pigalle for Parisians
By Patricia Tennison
www.ParisCafeWriting.com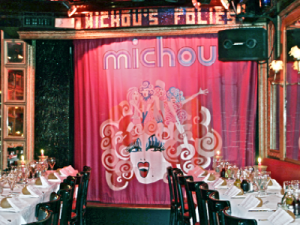 The first time that I saw Michou, he was in my neighborhood, not his. He glided into a small restaurant near the Marais and although I didn't recognize him, it was clear that he was—somebody.
He had a shock of thick white hair, combed back and off his face. He wore an azure blue suit and large blue sunglasses, and ordered a coupe of champagne from the bar. Then he turned slightly to us all with a smile that said, "I'm here. I am so glad to be here. And now you can applaud."
And they did. Well, not applaud. But there were smiles and titters as one or two customers eased up to the bar to have their photos taken with Michou.
"My mother just loved him," one French woman whispered.
As an American, I had no idea who he was. You can live in Paris for months out of the year but you always carry a suitcase of empty experiences, of childhood songs you never heard, old TV shows you never saw.
I decided to fill one little corner of that gap by getting to appreciate Michou. Before he's gone.
The fantasy at Chez Michou
Michou would be the first to tell you that he's no young chick. Not young. Not a chick. And neither are his performers. But, ah, with a lot of make-up, soft red lights, a fabulous wigs, familiar music and champagne for all, the fantasy begins at Chez Michou.
Michou's neighborhood is Pigalle in the north of Paris. Tourists come to the general Montmartre area to climb the stairs to the Basilica of the Sacré Coeur and enjoy an expansive view of the city, to wander where the artists demonstrate their work en plein air, to maybe slip into Pigalle to spend a night with all the other tourists at the flashy Moulin Rouge show.
The French go around the corner to Chez Michou.
Tuesday was the only night that week that Chez Michou wasn't already sold out, so I reserved two tickets, invited a French girlfriend, and we headed to the Pigalle Metro stop. After we exited, with the Moulin Rouge just across the street, we walked just a block up the nearby rue des Martyrs.
There was a small crowd of people on the sidewalk outside 80 rue des Martyrs, having their last cigarettes before the show. We gently elbowed our way to the door, but I couldn't turn the metal doorknob. My friend watched, then she tried it, but with no luck.
Suddenly, the door opened partially, enough for me to see a tall, good-looking man with a half-smile that seemed to playfully say, "Are you expected? Do you know the password?"
"We have reservations!" I blurted out. I might have curtsied. And we were in.
Inside: small, lively, and all-French
Within three steps, we could see and sense the whole place: red lights everywhere, mirrored walls, a chandelier, peppy music from another era, a small corner stage, and rows of about 70 tightly spaced tables with fresh wine glasses and white linens.
We got there at 8:15 p.m., as advised when I called, and already there were a dozen people seated very close to the stage where they probably hoped to be part of the show. (Smart, if that's what you want.) Michou sat at a table, apparently being interviewed by a couple journalists. We were escorted to the last table in the back where we could sit side by side and without turning see everyone and the whole stage. Perfect.
By 8:30 p.m., the place was filled, not one empty table. It was almost all male-female couples, with a few extra tables of women. I could hear only French.
Three women were seated together in front of us, and as the whole room sipped the same bubbly kir royales and warmed to the idea of the upcoming show, I asked if they were from Paris.
"No, Geneva," the middle-aged one said. "We are tourists. But I'd rather come here than the Lido where they are young girls. Here, they have this—" she said, pulling on some loose flesh on her underarm.
In the background, the '50s/'60s era "Pas de Boogie Woogie" by Eddy Mitchell was playing, and half the audience was singing along. "These are the only songs we know," the woman from Geneva said. "We don't know the new songs."
Join the crowd for so-so food
When you make the reservation, you have a choice of buying just the show, or the show plus an all-inclusive meal. For the convenience at a not unreasonable price, I chose to add the meal, and it appeared that the whole room had done the same.
The crisp, chilled kir royale aperitif, the salad with fresh endive and warm gesiers (chicken gizzards) and the whipped cream atop the baba au rhum were top notch. (The fish was inexpensive cod, the rump steak was the usual very chewy French cut, the red bordeaux was only moyen, and the coffee was thin and tepid. But who cares? The show was about to begin…)
With two of the waiters on either side to ease him up the steps, Michou took the stage and the audience broke into applause.
"You are all my friends," he welcomed. "Friends who pay!"
"I am 83 years old [more wild applause] and I've been here every night for 50 years."
You don't need French to get the show
Michou no longer performs as a female impersonator—one of his former roles was Brigitte Bardot, and I could see that!—but he is the soul of Chez Michou. The performers—some who double as your waiters—are called Les Michettes and Michou joins them for the opening "Cabaret Michou Bonjour."
Then, in a very fast pace, the performers take turns on the stage. The men are dressed as famous female singers and they lip sync to familiar songs—familiar to the French.
Even if you don't understand French, you will get the show—the costumes, the make-up, the dancing, the uncanny resemblance to the famous singers, many of them familiar to Americans.
At one point, the stage lights dramatically shine onto Celine Dion—I mean, Celine Dion! The long face, the long fingers, the nose, the pose. The crowd gasped. They laughed and clapped as Celine lived on and on for a moment in Montmartre, followed by Whitney Houston, Cher—and Whoopi Goldberg.
If you want to do a little homework so that you can sing along, go to the links below and learn at least the refrain to "Mon Mec à Moi" (My Guy) by the fabulous Patricia Kass. Also "La Voix des Sages" by former tennis champion Yannick Noah and "La Ballade des Gens Heureux," both of which play during dinner.
So go to Chez Michou before the biopic comes out and while Michou is still there.
Facts:
Chez Michou, 80 rue des Martyrs, 75018, Paris.
Metro Pigalle
01.46.06.16.04
www.michou.com
email: reservations@michou.com
Dinner starts at 8/8:30 p.m.; Show at 10:30 p.m.
Price: From 32 euros, at the bar, without a drink (drinks are 20 euros), to
110 or 220 euros for reservations with dinner with drinks included.
Parking: rue Dancourt
Links:
• The opening "Cabaret Michou Bonjour" song:  www.youtube.com/watch?v=hX943Bym0tE
• Eddy Mitchell sings "Pas de Boogie-Woogie":
https://www.youtube.com/watch?v=I2CYxY1_JwA
French lyrics:
http://www.lyricsmode.com/lyrics/e/eddy_mitchell/pas_de_boogie_woogie_lyrics.html
• Patricia Kass sings "Mon Mec à Moi":
https://www.youtube.com/watch?v=4zgB1Jfpjdw
French lyrics:
http://www.songlyrics.com/patricia-kaas/mon-mec-moi-lyrics/
• Yannick Noah sings "La Voix des Sages":
https://www.youtube.com/watch?v=pS3rkCJ-_Lo
• French lyrics to "La Voix des Sages":
http://www.lyricsmode.com/lyrics/y/yannick_noah/la_voix_des_sages.html
• Gerard Lenormand sings "La Ballade des Gens Heureux":
(with lyrics, in French)
https://www.youtube.com/watch?v=Wzkz9IABhPk
The photos: From left to right, Michou, second from left, with diners at Le Cellar restaurant, 9 rue Crussol in the 11th; interior with stage at Chez Michou; exterior of Chez Michou's, 80 rue des Martyrs, 75018, in Pigalle.
To email or to unsubscribe: info@www.pariscafewriting.com
Copyright 2010 Paris Café Writing–All Rights Reserved