Be Careful: There are Two Houses for Opera and Ballet in Paris
By Patricia Tennison
www.ParisCafeWriting.com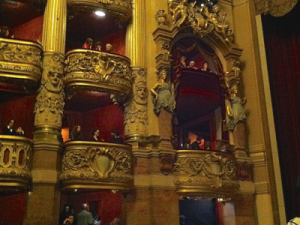 The nicely dressed American couple stood outside the closed Palais Garnier opera house with panic on their faces.
"Oui," the Garnier parking attendant confirmed. Their tickets were good for that night—but at the other opera house, a 20-minute cab ride away.
I don't know whether they made it on time for the curtain raising of "Tosca" at the Opera Bastille. But my instinct to write a newsletter on the two facilities was right on target: What's the difference between the Palais Garnier and the Opera Bastille? How do you buy tickets? What do you wear?
I'll take you there.
(And what was I doing at the Palais Garnier that night if there was no performance? It's embarrassing and I won't slow you down by getting into all that—just yet. Read the accompanying Backstory: Misery and a Martini.)
The Garnier Came First
If you say "opera house" and "Paris," most tourists envision the Palais Garnier, and with good reason. It was opened first, in 1875, and its nearby Metro stop in the 9th arrondissement is aptly named Opera.
But an even stronger reason is that the Palais Garnier is over-the-top stunning, an elaborate, pull-out-the-pearls masterpiece of Beaux Arts architecture, with sculptures and columns on the exterior, cherubim and nymphs on the interior, plus a regal, white marble grand staircase, a giant chandelier, a Chagall-painted ceiling, and opulent box seats. It's easy to see how Gaston Leroux was moved to use it as the setting for his novel, "Phantom of the Opera."
The Opera Bastille is newer, opening in 1989 in the Place de la Bastille in the 12th arrondissement at the Bastille Metro stop. Its design is modern, and to me it recalls a ship—a big, gray freighter. On the exterior, gray and blue granite and glass curve and rise to form a ship's clunky bow; on the interior, the balconies hang like rowboats. As far as I know, no one has been moved to write anything romantic about this place.
However, in both cases, once you get to your seat and the lights go out, you are at the opera with world-class performances. Both houses show opera and ballet, with more opera at the Opera Bastille and more ballet at the Palais Garnier.
Now, let's go in.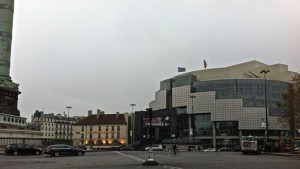 Opera Bastille in November for Puccini's 'Tosca'
First impression: I arrived a half-hour early, which left more time than you'd like to wander the contemporary lobby. However, the filled champagne glasses were already lined up at the bars (Heidsieck, 12 euros) and some patrons were already sitting on benches eating sandwiches that you can buy here. With not much architecture to admire, patrons tend to slyly check out each other.
Patrons: Adults only; speaking in French, Italian, American English; wearing black, black, black.
Seats: I bought my ticket a month ahead online and chose main floor (parterre) for 190 euros and let the computer select my seat. I got a padded velvet 42-centimeter-wide seat in row 12, slightly right of center. This close, there was no need for opera glasses, but I couldn't see the center of the stairway to watch Tosca jump—in this production she only stepped down—to her death.
Subtitles: French and English.
Tips:
• As you enter the building, accept a free copy of La Terrasse, an arts newsletter with lots of info about other music, dance, and movies in Paris.
• Your ticket will tell you which door (porte) to enter. At one point, even (paire) numbers go one direction; odd (impaire) go the other.
• To avoid lines at the bar during intermission, go to the ground floor near the "Sortie" sign, where the bar is empty and the bartender, lonely. "Only maybe five people come by each night," he said.
• The program costs the same 12 euros whether you reserve and pay for one online or wait until you get there to decide. Except for a two-page synopsis of "Tosca" in English, the program is in French. Buy one if you read French pretty well and enjoy comparing the libretto in Italian and in French. Buy one for the pictures. Wait if you already checked Wikipedia for the synopsis—and instead spend the 12 euros on a glass of champagne.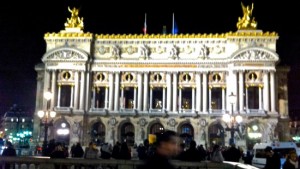 Palais Garnier in November for Humperdinck's 'Hänsel et Gretel'
First impression: This building is magnificent, and as it filled with opera patrons I imagined Versailles in its heyday. Champagne is de rigueur, so buy a coupe (12 euros) and allow a half hour to explore.
Patrons: For this German fairy tale–based opera, there were lots of well-behaved children—one carrying a teddy bear, some with their own opera glasses (paire de jumelles); more tourists than at the Opera Bastille, some in colorful, casual attire; loved the tight leather on a strutting young woman.
Seats: Again, I bought my ticket a month ahead online and chose main floor (parterre) for 190 euros and let the computer select my seat. That seat was in the 4th row, center. Was. (See Backstory: Misery and a Martini.) For reasons I'd rather not talk about quite yet, I had to buy another ticket only a few days before the opera. This time the price jumped to 210 euros—but I scored 5th row center, aisle. Perfect. The velvet seat was a generous 49 centimeters wide. (Yes, I had stuck a tape measure in my purse.)
Subtitles: For this performance, in French only.
Tips:
• Pull out your smart phone for pictures during intermission—everyone else does.
• See the above tip about buying a program. In the case of "Hänsel et Gretel," the libretto was printed in German and French.
• I had never before seen the opera "Hänsel et Gretel" and was thoroughly enchanted. Even though it's sung in German, the 7-year-old French boy next to me "got it." He stood up and strained to get a better look at the giant gingerbread house; he shrank at the sight of the witch.
How to Buy Tickets
Both houses fall under the umbrella of the Opéra Nationale de Paris. Opera and ballet are very well attended in Paris, primarily by the French, and many of the best performances are sold out weeks or months in advance.
To buy tickets online, go to www.operadeparis.fr. Click on "EN" in the upper right for English. Print out your reservation. Once you have registered on this site, you will get publicity emails, which serve as reminders to buy your tickets early.
For last-minute tickets to a sold-out performance, try www.boursechange.operadeparis.fr. This is where subscribers sell their available tickets. The tickets are usually full price and there are more single tickets than pairs.
Tip: Reduced-price, same-day tickets for seniors and those younger than 28 are sometimes available before the performance, although the line to buy them could start two hours earlier. In addition to saving big bucks you'll have one more advantage: you're sure to be there on the right night.
The Backstory: Misery and a Martini
Q: So what was I doing with a ticket in my hand that night outside the closed Palais Garnier?
A: I was trusting the calendar on my Mac.
I love my Mac. However, even the Mac store "geniuses" have never solved my problem with the computer's calendar. When I travel east and cross time zones, the computer moves some of my events to the next day. Only some of the events. Only the ones with exact times—like a 7:30 p.m. opera performance that I entered while I was still in Chicago.
The calendar moved the event for "Hänsel et Gretel" that I entered for a Thursday night to the next day, Friday. I was at the right opera house for the right opera—on the wrong night.
The ticket was useless. The $250-plus ticket! The opera had been the night before and I felt even more frustrated than the American couple dashing for a cab. At least they had a chance to make "Tosca" at the Opera Bastille.
It was the money that bothered me most. That was a $250-plus mistake! I walked for a while kicking myself with my uncomfortable high heels. When my own chiding voice diminished, I imagined the voice of my husband, Joe, somewhere back in Chicago: "It's just money, Patty. Calm down. It's not like it was $2,500 or $250,000. Just buy another ticket and go have a good time."
I made it back to my neighborhood but still didn't feel in a good mood.
"Clarice," I said to a friend as I collapsed into her office chair. "I need a drink, and I don't mean a nice little glass of wine. Let's go somewhere for a martini. My treat."
(Why not? I had already blown a couple hundred bucks.)
We walked to the corner to the crowded Mary Celeste bar but couldn't get a seat without a reservation. Typical. (I had a reservation. It was for an opera. For yesterday.)
Clarice took my arm and led me to another, less crowded restaurant where we easily got a table. "Deux martinis," she said to the waiter, holding up two fingers. (The thumb and the index finger, by the way. Not the index finger and middle finger that would mark an American.)
The French love a sad story, and Clarice dutifully pitied me as I told my tale. Then my drink arrived. It was not in a V-shaped martini glass with a lovely stem but in a low, squat glass. There was an ice cube. And instead of a twist of lemon, a big slice of lemon.
It would never have worked as a prop in a 007 movie, but I took a big gulp—and gagged. My martini was a glassful of Martini & Rossi vermouth. Straight vermouth. Apparently, if you are in a French restaurant—and not in a bar where they sling a lot of cocktails—this is a Martini.
Big "M" vs. little "m." Thursday vs. Friday. I hated my mistakes but swallowed them both. A perfect ending to a perfectly miserable evening.
The photos: From top, box seats at the Palais Garnier; exterior of the Opera Bastille; exterior of the Palais Garnier; a martini glass—small "m."
To email or to unsubscribe: info@www.pariscafewriting.com
Copyright 2015 Paris Cafe Writing—All Rights Reserved