Paris Street Art: More Than Graffiti
By Patricia Tennison
www.ParisCafeWriting.com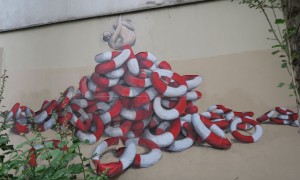 It's exciting to live in an era when you can watch an art movement evolve. Watch it as you pass a building marred with clumsy aerosol spray and two feet later spot another application that makes you pause ...
"Now this—this is good."
And you become an amateur art critic, a follower of street art.
Early graffiti is associated with New York City, where gangs in the '70s would mark their territories with bold swatches of spray paint. It was against the law, of course, so it was done quietly and quickly.
Just one decade later—but still under the cloak of darkness—painters left their marks in more sophisticated designs around the world. In Europe, Berlin, London, and Paris became strong centers of what is now deemed street art.
Why try to get into a small gallery where a few hundred people might see your work, when you can make a splash on a public wall where thousands walk or ride by?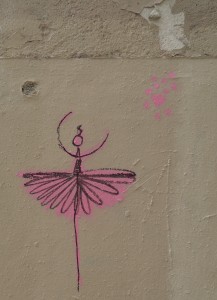 The vocabulary
The art evolved from "tags," usually a signature done in one color, to "throw-ups," still a signature but with perhaps rounded, shaded letters in more than one color. Finally, we have "pieces," elaborately planned works done with stencils, collage, mosaic, or even yarn.
The best of the street artists are not just accepted, they are high-profile celebrities. Works by the anonymous Brit, Banksy, have sold at auction for six figures. His film on street artists, "Exit Through the Gift Shop," was nominated for a 2010 Oscar for Best Documentary Feature. (It's pretty funny. See the link below.)
Some of the artists now get paid. A few years ago, the French railroad company, SNCF, hired street artists to decorate part of the Paris Gare du Nord railroad station. More recently, after city officials removed the love locks that were stressing the walls of the Pont des Arts over the Seine, they hired a street artist to paint a temporary pink installation along the walls until the final, clear covering is erected.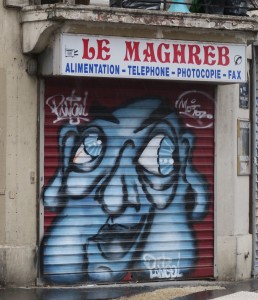 Store owners in Paris sometimes take a proactive stance by hiring street artists to do their thing on the otherwise ugly steel covers rolled down over the entrance at night.
And municipal officials keep a short list of accepted street artists in Paris whose works are protected, not whitewashed.
Yet the rules of street art are still that of the Wild West. One artist puts up a work, and another paints over a corner of it. The works are painted, repainted, marred, scarred. It's all part of the accepted code among the artists.
Where to find it
So how do you find the best of the street art in Paris?
For one, this summer in Paris we stopped at an exposition Sur Les Murs at the Galerie du Crédit Municipal de Paris. It displayed 50 works of urban art made in the last 50 years in Paris by artists including Miss. Tic, Space Invader, and two of my favorites, Mosko & Associés and Jérôme Mesnager. That exposition ended in June, but check a publication such as Pariscope to find others.
We also took a guided tour through Paris Walks. (See link below.) I highly recommend any of their tours, especially this one called Street Art Walk that takes you through the Belleville area in the 20th arrondissement.
And finally—just look up.
In addition to Belleville, the Paris areas ripe with street art include Montmartre (18th), Oberkampf (11th), Butte aux Cailles (13th), Canal de l'Ourcq (19th), and in a southeast suburb, Vitry-sur-Seine.
For officially sanctioned walls—where what you see one day won't be there next week—head to the vibrant rue Dénoyez in Belleville and to Le M.U.R., 107 rue Oberkampf at St. Maur in the 11th. At Le M.U.R., the artists are paid to fill the former billboard.
Joseph Prendergast does a lot of looking up, and this summer took the photos below of street art around Paris.
Links:
• A two-minute video showing of works by Mosko & Associés (the wild animals) and Jérôme Mesnager (the faceless, white figures): www.youtube.com/watch?v=I1e3OYG0j1E
• A four-minute video with (irritating) thumping music showing works by Mimi the Clown, Fred le Chevalier, and Shepard Fairey: www.youtube.com/watch?v=sjB1SlrA3R4
• Another thumping four minutes, this time showing Nemo, Space Invader, and Philippe Girard: www.youtube.com/watch?v=dkon2m47orM
• For excellent Paris tours in English from Paris Walks: www.paris-walks.com
• To see the trailer and other info on the movie "Exit Through the Gift Shop": www.imdb.com/title/tt1587707/?ref_=tttr_tr_tt
The Street Art Photos, all by Joseph Prendergast.
In the 11th arrondissement: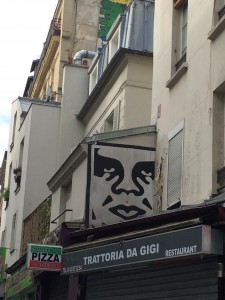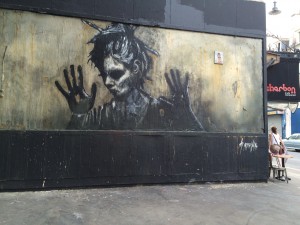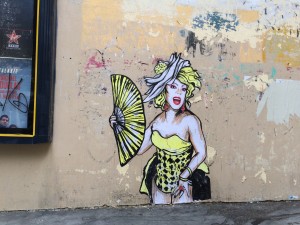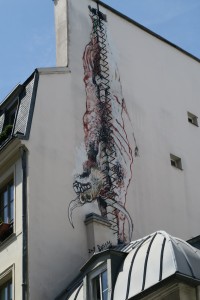 Above, from the top:
Black & white face by artist Shepard Fairey (who is in the "Exit Through the Gift Shop" movie), near rue St. Maur; girl with hands up, artist unknown, at Le M.U.R., 107 rue Oberkampf at St. Maur; four women (still being painted, nice photography work, Joe!) by artist Miss Van, at Le M.U.R., 107 rue Oberkampf at St. Maur.
Ghosts, artist unknown, Passage Saint-Sebastien; woman with yellow fan, artist unknown, near Republique; upside-down creature, artist unknown, near rue St. Maur.
In the 18th arrondissement: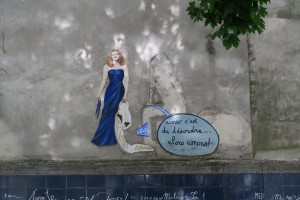 Above, Rita Hayworth, artist unknown, placed above the "je t'aime" wall at the Square Jehan-Rictus, where the phrase "I love you" is written in many languages.
In Belleville, 19th and 20th arrondissements: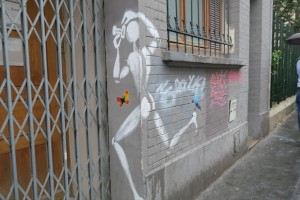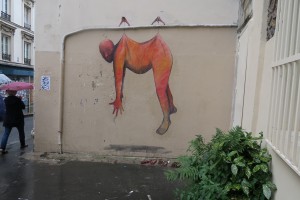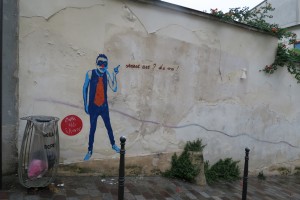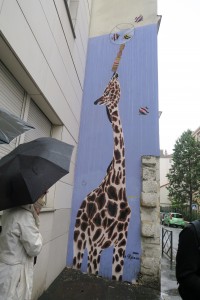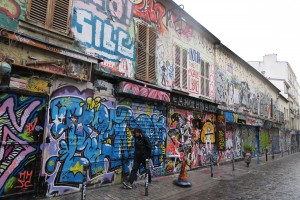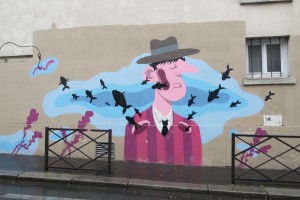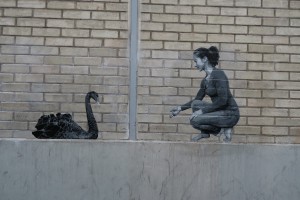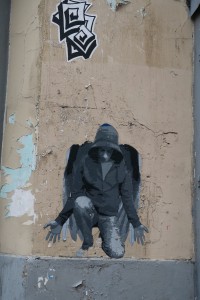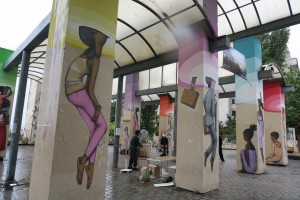 Above, from the top:
Man running around the corner by artist Jérôme Mesnager; hanging orange man by artist Philippe Girard; male clown by artist Mimi the Clown; giraffe by artist Mosko & Associés.
Vividly decorated free wall at rue Dénoyez; man with fish, artist unknown; woman and swan, artist unknown; figure emerging from wall, artist unknown; decorated pillars at the pavilion at the top of the Parc de Belleville by artist Julien Malland, a.k.a. Seth Globepainter.
Top of article:
Center by artist Philippe Girard with his signature life savers; left, ballerina, artist unknown; right, shop entrance cover, rue des Pavillons, artist unknown; all in Belleville.
Note: "Artist unknown" means that I don't happen to know the name of the artist. I'm sure there are many who do know!
To email or to unsubscribe: info@www.pariscafewriting.com
Copyright 2015 Paris Cafe Writing—All rights Reserved