Up "Pariscope": A weekly guide to movies in Paris
By Patricia Tennison
www.ParisCafeWriting.com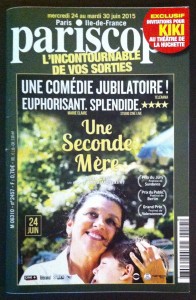 (Note from author: Alas, months after this newsletter was published, Pariscope stopped publication. Continue reading, though, for a slice of Paris history.)
When I arrive in Paris, the first thing I do is dash to the nearby kiosk and buy a copy of Pariscope.
It's a paper magazine guide, small enough to stuff into a purse, filled with what's going on that week in Paris: theater, museums, music, expositions—and especially movies.
I can thumb through the magazine while I sit at a cafe. If my feet are tired from museum walking or if it's starting to rain, I can pick a movie for before or after dinner.
Yes, thumbing through paper rather than swiping a smart phone is a bit old-fashioned, but I like it. It's a lovely habit. Anyway, Pariscope dropped its website years ago. There is a free Pariscope app but I find it too slow.
On any given week there are about 300 movies showing in Paris. Many are American movies in the original English (easy!) or dubbed into French. Some are French movies, never dubbed. Some are non-French foreign movies with French subtitles, and these are a fun challenge for those who at least read French fairly well.
To add to the complication, a theater might show a particular movie that week only, say, Monday and Friday, on the other side of Paris. You need to have a plan—and need to know how to read a guide like Pariscope. I will show you, step by step.
Is it in English?
Sorry, no. The small paper guide, which has been printed weekly in France since the 1960s, used to have one page in the back written in English. That English page has disappeared, so now the magazine is entirely in French. However, if you speak English you already understand these French words: restaurant, café, théâtre, musique, cinéma, film. Below, I have translated some useful French words and abbreviations that you will find in the magazine.
When and where do you buy it?
Buy Pariscope at a sidewalk kiosk. (While there, buy a paper newspaper, too. Support the industry that supported Hemingway!) The weekly magazine comes out on Wednesdays, the day movie schedules change in Paris. It's best to buy it by Wednesday or Thursday. If you wait until Saturday, the kiosk might be out.
It costs 70 centimes; to be kind, use exact change or at least a euro coin—not a 20 euro bill. When the week is over, slip the magazine into your suitcase. It makes a fine souvenir.
How to find an American movie, step-by-step
1. Thumb through to find the cinéma section. The first half-dozen pages include featured films and films nouveaux (new films), and you will need to know a few codes.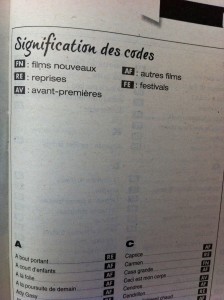 The films are organized by these labels:
• FN: films nouveaux (new films)
• AF: autres films (other recently released films)
• RE: reprises (revivals; older films)
• FE: festivals (a group of films by theme, such as director or actor)
• AV: avant-premières (sneak previews)
2. To see how the local French critiques rank the latest movies, look for the l'avis des critiques chart.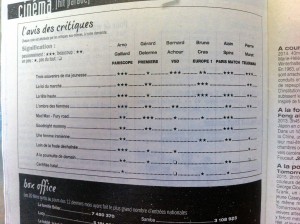 3. To see the most popular films in France for the previous 12 months, check out box office.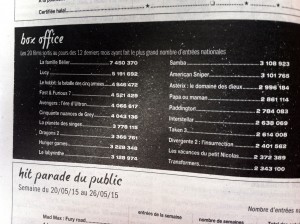 4. Thumb through the listings and find a movie you want to see. Let's select Mad Max: Fury Road. (Big, blow-up action films are not my usual genre, but the special effects and production in this one are awesome.)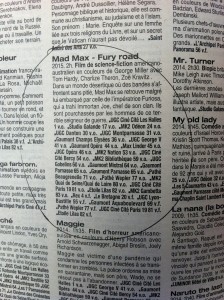 The information on top is easy to decipher: It's a 2015 movie, two hours, science fiction, American–Australian, in color, with the named director and stars.
The bottom bold-faced section lists all the movie theaters where Mad Max is showing that week. (Impressive listing!)
**If you want to watch the film in its original language (here, English), look for the letters v.o. (version originale). If you want to watch the film dubbed into French, look for v.f. (version française).
The bold-faced section lists the salles (movie rooms) by arrondissement. For example, listing #1 is at the Les Halles theater, which is in the 1st arrondissement. However, there are many more than one theater in each of the 20 arrondissements, so the salles numbers go up to about 83.
Let's pick salle #41 where Mad Max is in the original English, and thumb to the next section: Salles de Paris.
In the Salles de Paris section we find #41, which is in the 8th arrondissement.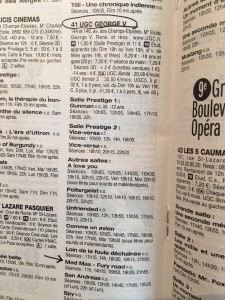 Again, the information at the top is easy: This is the UGC George V theater, address 144 and 146 avenue des Champs-Elysées; closest metro stops are Etoile or George V.
The prices for one full-priced ticket (Pl) is 11.80 or 11 euros. The rest of the top information is mostly a variety of prices, which will not apply to you as an adult short-term visitor.
Thumb down to our movie, Mad Max. It's in the original (English) version and shows every day that week at 11 a.m., 2:15 p.m., 4:50 p.m., 7:25 p.m., and 9:55 p.m.
You are all set to go to the movie!
How to find a foreign movie, step-by-step
For a bigger challenge, let's try a smaller film in a foreign language.
1. Thumb back through the autres films listings and let's pick Un pigeon perche sur une branche philosophait sur l'existence, a black comedy in Swedish.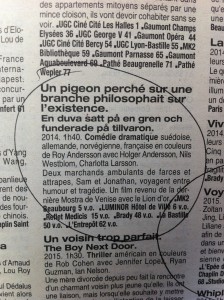 The top part tells us that this 2014 film is 1:40 hours, a dramatic comedy, in Swedish, in color, with the stated director and actors. Also, it won the highest prize at the 2014 Venice Film Festival. Bon!
**The language choices in boldface all state v.o. (version originale). This also means that there will be subtitles in French. You would be watching the original film in Swedish with French subtitles.
Let's pick salle #50.
2. In the Salles de Paris section we find #50, which is in the 11th arrondissement.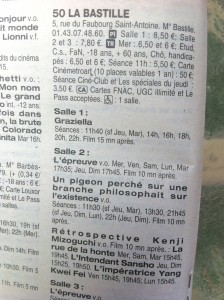 The information at the top tells us that this is the La Bastille theater at 5 rue du Faubourg Saint-Antoine and the nearest metro is Bastille. A full-priced ticket costs 8.50 or 7.80 euros.
Further down we see that the Un pigeon movie plays in salle 2—but not every day.
It plays at 11:30 a.m. daily, except Thursday and Tuesday; at 1:30 p.m. daily; at 9:45 p.m. daily, except Thursday, Sunday, and Monday; and at 10 p.m. daily, except Thursday and Sunday.
Note: If you want to watch a contemporary or classic French movie in the original French with English subtitles, check out Lost in Frenchlation. The group screens about one film a month at various cinemas, with a cocktail hour just before. For more information go to www.lostinfrenchlation.com.
More useful vocabulary
Days of the week:
lundi (lun): Monday
mardi (mar): Tuesday
mercredi (mer): Wednesday
jeudi (jeu): Thursday
vendredi (ven): Friday
samedi (sam): Saturday
dimanche (dim): Sunday
tlj (tous les jours): every day
salles climatisées: air conditioned rooms
séance: starting time
That's all folks!
Ah, one more tip: The films start after 10 minutes of French commercials—which can also be a lot of fun.
To email or to unsubscribe: info@pariscafewriting.com
Copyright 2016 Paris Cafe Writing—All Rights Reserved