By Patricia Tennison
www.ParisCafeWriting.com
I admit that I expected this posting would have a different ending. I would write with a glass of wine and a chunk of cheese by my side, recording the elated mood in my neighborhood here in Paris as we all watched the television results of the American election.
Now I sit with a cheap sandwich—something to yank and tear on—and a cup of strong coffee. The world here is sobering up.
Tuesday, Nov. 8, 2016, started with hope. With levity. The mayor's office in the 3rd Arrondissement of Paris offered an all-night affair—with food and cocktails and "Dallas" reruns that the French adore—to watch the American presidential election results.
This neighborhood is part of Le Marais, home to many of the city's artists, Jews, homosexuals, and jeans-clad liberals. There is no question that they prefer Hillary (pronounced without the "h," as the French are wont to do) over Donald—although you never hear the name Donald spoken alone. It's "illary Cleenton" vs. "Trump."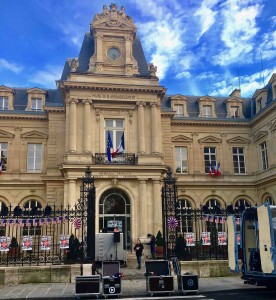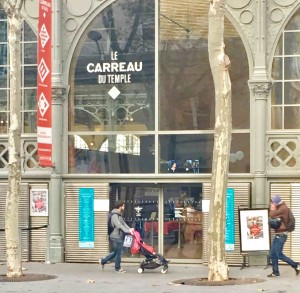 In late afternoon I walked to take some photos. American flags and balloons were being set up in front of the stately mairie (mayor's office). In the adjacent Le Carreau du Temple, a refurbished 19th-century covered market now used for public sports and cultural events, workers were fussing with tables, a bar, and large television screens.
It was early and cool outside, but the choice outdoor seats in the cafes surrounding the mairie and Le Carreau were filling up.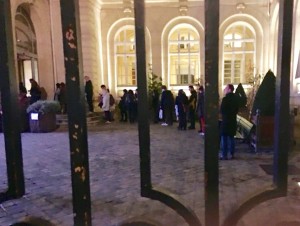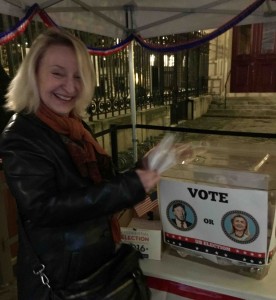 At 7:30 p.m. (1:30 p.m. in New York) there was a short line outside the mairie. I heard only French voices as I made my way upstairs to the standing-room-only live panel discussion, en francais, of the American election process.
You could even vote! There was a mock ballot box and a stack of ballots with just two names: Clinton or Trump. No one was watching, so I couldn't resist: I voted twice. For the same person. It felt in the spirit of the evening.
It was too early for the activities at Le Carreau so I went to dinner with a friend, Jude Logan of Los Angeles, who is one of the returnees for my Paris Cafe Writing session that starts Sunday. We picked an Italian restaurant behind Le Carreau and chose a little round table upstairs where it was warm.
The only annoyance was the amount of noise from a group of eight at a nearby table. Surprising, really. There are customs in Paris and this rude noise is just … not done. We brushed it off because the night was young and hopeful. And the group surprised us by eventually settling down.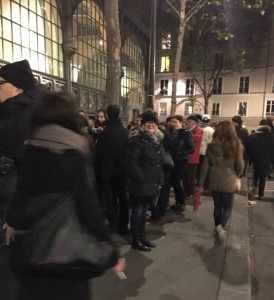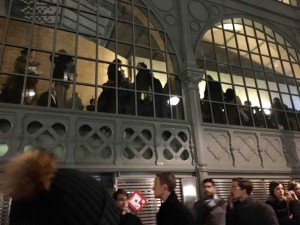 At 9:15 p.m. we left Le Soprano restaurant and noted a group on the other side of the sidewalk outside Le Carreau.
"Smokers," I said. And we turned to circle the building in the other direction.
Alors, when we reached the main entrance, a thick crowd blocked the door, which was not opening to let in more people. Hundreds font la queue (stood in line), mostly young, mostly French-speaking. The line went down the block, around the corner, down the other side of the block, around the corner, and ended at that group that I thought were the smokers. They were, instead, the end of the queue.
Inside Le Carreau I could see the early arrivals upstairs, sipping drinks while watching CNN on a giant screen. They weren't going to leave soon to make room for hundreds outside. This line was never going to move, and it was cold. I walked home to my apartment and set the alarm for 4 a.m. (10 p.m. in New York).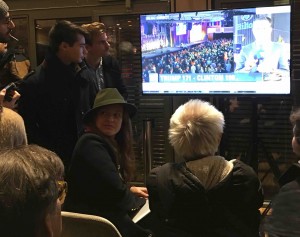 At 4:30 a.m., the 5-minute walk back to Le Carreau was depressing. There was no one on the streets, just a few pigeons fighting in the rain over a chunk of wet bread.
There were no lines outside Le Carreau, only a group of smokers.
"Trump is going to f… our arses," one said in a British accent.
"I'm running out of countries to flee to," another said.
I had listened to a few minutes of CNN before I had left the apartment, so I had an idea about the incoming results. By 5:04 a.m. (11:04 p.m. in New York) Clinton was ahead 190 to 171 in electoral votes. Everyone knew, however, that she was irreversibly behind.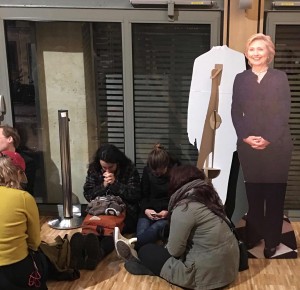 The thin crowd was now dispersed into mostly English voices watching CNN upstairs, and French voices around a French broadcast on the main floor.
A cheer let out from upstairs and the downstairs group looked around. It was another state for Clinton but one with few electoral votes. Nothing was going to change.
Someone had torn the head off a cardboard image of Trump and turned it around.
Meanwhile, two young French women opened the door to join 50 people scattered in seats in the dark auditorium. They didn't know which film was next but this was where the city had already shown First Date, the biographical Hollywood film about President Barack and Michelle Obama, and the award-winning The Butler.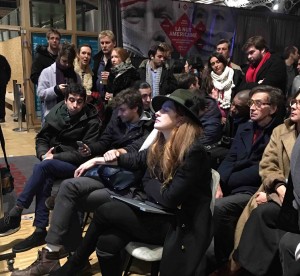 Finally, there was resignation. Long, tired faces and resignation.
Most were quiet. There were no cheers. One American woman sobbed:
"My family. My children. My grandchildren!"
We all know the ending: Donald Trump has been elected president of the United States.
He surprised us once. May he surprise again by evolving into a sober statesman who lets us hold our heads high at home and around the world.
To email or to unsubscribe: info@pariscafewriting.com
Copyright 2016 Paris Cafe Writing—All Rights Reserved