Paris Is the Next Event for This Scholarship Winner
By Patricia Tennison
www.ParisCafeWriting.com
Once again we have a new scholarship winner! Candace Nzingha Smith, a student at National Louis University in Chicago, where I teach, will be joining us in Paris for a June 2017 session of Paris Café Writing.
"I called my younger sister in Dallas and we had a screaming contest for a bit. Then I called my best friend in Galveston and we had a screaming contest, too!" the winner said.
Candace, 36, and her five siblings were raised in Chicago by her maternal grandmother. "I was like a parent, and when my grandmother died I took care of my siblings," she said.
"At 15 I left home and went to work." While in high school in Chicago she worked at McDonald's. In college in New Orleans and then L A. she worked full-time at Hertz Car Rental, plus helped at an events company. With that experience under her belt, she and some friends then started a fashion show and events business in L.A.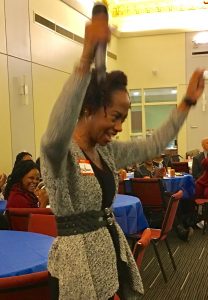 France, though, seemed always on her mind. She looked into a writing residency program in France in 2014, but the cost was too high. Instead, she packed a bag and took off for Europe on her own, including exploring Paris for just one day.
Now she is studying for her master's degree in written communication at NLU, where the scholarship committee was impressed with her writing.
"I knew at 11 that I wanted to be a writer, but I had to put it off. Still, I haven't been able to escape it. I want to teach, to build up confidence as a writer, and produce work including children's books and poetry," she said.
An interesting fact about Candace: "I don't watch television. It's too time-consuming. Other people usually purchase them for me as gifts so they'll have a TV to watch when they visit me. The funny thing is—the last thing we end up doing is watching television."
She's talented, she's hard working—and she's going to Paris.
*     *     *     *     *     *     *     *
But first, I'd like to sincerely thank those who contributed to the scholarship fund. It costs about $4,000 to send a student on a full scholarship abroad, a goal we want to achieve each year. I established this scholarship at National Louis University—one of only two travel scholarships at this urban university—and each year I donate the first $1,350. Your contributions do the rest.
The contributions go through the university, so they are tax deductible. To donate, click DONATE. The university will send you an email receipt for your taxes. Thank you so much.
*     *     *     *     *      *     *     *
Janice Canty, last year's scholarship winner, published the following essay and poem in Mosaic, a literary magazine published by the Master of Science in Written Communication Program at National Louis University.
Paris—The City of Lights, The City of Love
by Janice Canty
After travelling since 3 p.m. the day before, I arrived in Paris around 8 a.m. (1 a.m. Chicago time). As the taxicab drove down the narrow streets to the hotel, the graffiti on the buildings alarmed me. I discovered later this was Parisians' artistic expression of Street Art.
I received another shock when the driver pulled up in front of a building that was my hotel, and I thought there must be some mistake. Where was the big hotel entrance, the Holiday Inn lobby? I reluctantly checked in and went up the petite elevator; "petite" is synonymous for "tiny" in Paris, you know. Anyway, I opened the door to my "petite" room and wondered where was the rest of it? Overcome by jetlag, I crashed on the bed and slept for a few hours to get ready for the welcome dinner.
However, let's go back to how I got here.
Ever since I was a little girl, or at least ever since my high school years—you can guess how long that has been—I've dreamed of going to Paris. Fast-forward to the National Louis University Master of Science in Written Communication Program—I was selected in Spring 2015 as the first recipient of the 2016 Paris Café Writing Scholarship. At first I questioned this blessing, "Why was I selected?" There were many more qualified and deserving classmates. Then finally, I said to myself, "Why not me?" It was beyond my wildest dreams. My family didn't believe it and my friends were excited for me.
Then it happened. In November 2015, terrorists attacked Paris, killing 130 people and wounding several hundred others. I was inundated with the inevitable question from family and friends, "Are you still going?" I tried to stay positive. After all, this was a trip to Paris—not just any trip. I decided to wait and see. I decided if anything else happens that would be the deciding factor.
Then it happened again. Terrorists bombed an Egyptian flight out of Paris. Fear and doubt crept over me again. This time I saw it as a sign that I wasn't supposed to go. I called up one of my closest friends, who is a strong Christian, and asked her to have lunch with me to sort out my thoughts and to get an objective opinion. We met for lunch and she asked, "So, are you still going?" Then without my answering, she said, "I think you should go." She said anything could happen to each of us at any time. Only God knows when it's our time. I was surprised that she said this because it was pretty much the conclusion I had reached. Life is not a guarantee. We must live it in faith. We cannot allow fear to paralyze us. With that assurance, I went to the library and took out three French language lesson books.
Here I am in Paris at last! Exhausted, I dressed for the welcome dinner. By now, I was homesick too and wanted to get on the first plane back to America. I went down to the lobby and there was a fellow member of the Paris Café Writing group. She was friendly and right away I began to feel at ease. Then in walked Patty, effervescent as ever. Paris suits her. Bonjour! And kisses on the cheek—both cheeks in Paris, you know. She was with her husband Joe. Ahh Joe, wonderful Joe. I can't say enough about Joe.
We arrived at the Le Cellar, and there we were treated royally by Christian. The dinner, the meal, the ambiance was none that I had ever experienced. It was lively, the wine flowing like Coca Cola—we were in Paris, you know. And Christian, Patty and Joe's friend and the owner of this quaint restaurant, served up this delectable meal and entertained us the entire time. I had the most succulent dish of salade gesiers, chicken gizzards. Never had I tasted anything so delightful. I even had escargot for the first time. I just closed my eyes as I swallowed the first one, and didn't think about what I was eating. I devoured the whole plate. By the time I arrived back at the hotel, I had forgotten all about being homesick and was grinning from ear to ear. I was in Paris.
The next day we met Patty at a café and had scrumptious croissants—ooh la la—with butter and jam. You haven't lived until you've had a croissant in Paris. Patty took us on a tour; I was able to see Paris in a way that most tourists never have the opportunity to experience. I saw Paris through the eyes of the locals. After a few days, I was strolling down the narrow streets by myself, riding the bus and subways. I would stop at the boulangerie, Paris's version of Panera Bread. I shopped at the supermarkets, the cheese shops, and the wine stores. The markets in Paris are specialized, you know.
What made the trip really special is the afternoon Patty invited us to their petit appartement. It was so quaint and Joe, as always, was the gracious host. We had samplings of lavish assortments of cheeses and breads. My favorite cheese has always been Brie; however,
I discovered I much prefer Camembert.
During my stay in Paris, as the scholarship winner, I felt at times Patty and Joe showered me with too much attention. Never did I feel alone. The trip was extremely educational. Patty's writing workshops were imaginative and creative. One day she had the group write an essay about our experience in Paris. At the time, I was also taking an online poetry class and my first poem, "Salute to Fear," written below, evolved out of this awesome experience.
Salute to Fear
by Janice Canty
Fear of the unknown; the unknown is fear.
Graffiti buildings or Street Art it's called
Narrow streets like Chicago alleys
Stone-faced cigarette smokers
Fear of the unknown
Rooms so tiny, so petite
A strange beautiful language
Petite sidewalks for petite women
The unknown is fear
Motorcycles racing, racing
Horns blasting, blasting
Sirens screeching, screeching
Fear of the unknown
Armed guards uniformed in black
Green Berets patrolling the streets
Monuments gated and closed
The unknown is fear
Then……..
Immersed in the city's culture
Strolling down the cobblestone walkways
People watching at cafés
Ooh la la the fashion
The marvelous French architecture
Ahh the croissants, the chocolate éclairs
People so lively still
Wandering about without fear
In face of terrorist threats looming
Paris is still blooming.
The unknown is known.
To email or unsubscribe: info@pariscafewriting.com