The pickpocket? We never saw it coming
By Patricia Tennison
They are soooo good. When I told friends that I was leaving Paris for a few days to visit Barcelona, everyone had a pickpocket tale:
"They make Paris thieves look like amateurs," a French friend warned.
"My son lived there. He's pretty savvy, but they got him."
And now I have a tale, too.
At first—and upon reflection, at the end, too—I was elated to be going to Spain. I had been trying to get there for decades but something always went awry: It was too far in the wrong direction. A friend canceled. Too many other distractions.
This past summer I decided to just go to Barcelona, and I invited a friend, a writer who had just come back to Paris Cafe Writing for the fourth time. Jude had already heard my usual safety orientation for Paris:
* Wear a purse with a strap across your chest.
* Keep your hand atop the zipper on that purse.
* At an outdoor cafe, keep your purse close, away from the sidewalk.
* Put a few Metro tickets in an outside pocket so that you don't have to expose your wallet.
* Don't stand next to the Metro door, an easy escape route for pickpockets.
* Be aware of who is behind you on an escalator.
* Ignore the sweet-looking woman who stands in the Metro asking, "Do you speak English?" She has friends nearby.
* If someone points down to something you "dropped," ignore him. He's trying to distract you.
* If a group of young women ask you to sign a petition, ignore them. They are trying to distract you.
I practice all those moves in Paris and have never been taken. But in Barcelona? Truly, every person has a tale about Barcelona, so I decided to add a couple more precautions.
* I put a photocopy of my passport in my overnight bag.
* I wore a money belt. So did Jude. I habitually throw one into my suitcase, more like a good-luck charm, but I hadn't actually used one in decades. This time I did.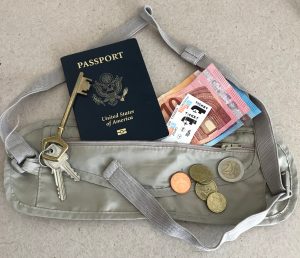 When traveling by train between Paris and Barcelona, I put the following items in my money belt: passport, most of my money, credit cards, my romantically long Paris apartment keys, and even my iPhone. Wearing the lumpy money belt was a bit like being 8 ½ months pregnant: quite uncomfortable, but worth it.
I picked a 4-star, centrally located hotel in a good neighborhood, the Hotel Murmuri, 104 Rambla Catalunya, and locked the money belt and all its contents in the room safe. When we went out, all that was in my purse was the hotel key (a totally blank, white plastic card), tourist maps, pen and paper, reading glasses, a business card that could serve as an ID, and the most money I was willing to gamble on a daily basis: 100 euros. I even left the iPhone in the safe; I preferred to use an old-fashioned paper map rather than figure out how to replace a stolen phone in Barcelona. Oh, and I tucked a 20-euro bill in my shoe. Yup, I did.
These precautions worked beautifully during our tourist gadabouts—and here I must pause to extol Barcelona.
The clean and fast TGV train from Paris to Barcelona took about six hours and plopped us right into the middle of town, where it was just a few Metro stops to our hotel. I had been told that people in Barcelona might smile more than any other group in the world and it seemed true. To a person—uh, even the pickpocket—they were all so darn pleasant.
We figured out the better restaurants to visit for good tapas, and grabbed an on-off tourist bus to guide us from parks to wharfs and all the wonders of Gaudi's famous architecture. Gaudi's unfinished cathedral, the Sagrada Familia, is extraordinary. Worth the whole trip. Even the Metro was clean—but it is here that we pick up the pickpocket story.
It was the last day. We packed our overnight bags, wore our money belts, slung our purses over our shoulders, grabbed the inevitable couple plastic bags of tourist purchases, and entered the Metro.
We had already bought the Metro tickets the day before when we were not ladened with bags. (Ha! How clever.) We made it through the turnstiles where pickpockets often like to squeeze in behind you, hopped a train, and hung onto the central pole near the door. Yes, we were near the door, but sometimes there just aren't any seats on the Metro.
Then they entered. Two guys right out of the Central Casting call for big-city pickpockets. Jude and I exchanged quick glances. They were young and lean, in sleeveless shirts that exposed arms totally covered in tattoos, and they were wearing dark sunglasses. Who wears dark sunglasses in the Metro except pickpockets?
They were 18 inches from my face. They stared at me. I stared right back.
But wait. The babble of a child. I did break the stare to glimpse left toward a pretty, well-dressed woman with an adorable baby. Really adorable. The baby was in a stroller—right behind Jude—and the mother kept leaning over to make the baby laugh. Adorable. At our stop I even helped the young mother maneuver the stroller off the Metro. She looked embarrassed, maybe even shocked, but I do like to give a good impression of visiting Americans.
Less than a minute later, Jude was wide eyed as she patted her purse. Her wallet was gone. Gone from inside the flap of her purse. Yes, with one hand on the Metro pole and the other hand on her baggage and bags, her purse had been momentarily on its own. It had taken only a moment. She never felt a thing.
We were stunned. They were brilliant.
The pickpockets got 90 euros, much less than a Broadway ticket to Hamilton. Frankly, we applauded them. And headed back to Paris with a familiar tale from Barcelona.
Top photo: Casa Batllo, one of Antoni Gaudi's fabulously organic creations, was an easy 10-minute walk from our hotel in Barcelona.