"Beautiful, Beautiful, Co-pen-ha-gen"
By Patricia Tennison
www.ParisCafeWriting.com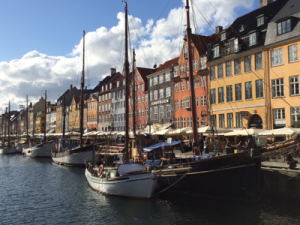 The Little Mermaid. Tivoli Gardens. Beer.
That's all that was on my to-do list for a three-day visit to Copenhagen—but the list turned out to be too short. Here's what I needed to add: NyHavn, dark rye bread, herring.
We l-o-v-e-d the herring. (In the next PCW newsletter, I will report on a herring taste-testing we are doing here in Paris.)
Instead of flying directly to Paris this summer, we decided to spend three days in Copenhagen. My husband, Joe, and I had never been to Denmark, and the round-trip flight on Scandinavian Airlines from Chicago to Paris included the stopover for no extra cost. Bon!
The flights between Copenhagen and Paris are just two hours, so it's a fascinating option at the beginning or end of a trip.
Reviews on TripAdvisor led me to the Copenhagen Strand hotel in the NyHavn neighborhood. The hotel was a good choice: a very helpful, English-speaking staff and a breakfast buffet laden with fresh fruit, cheeses, cold meats, hot oatmeal, pickled beets (pickled beets?), fresh yogurt, great breads including moist, dark rye, and—ha!—Danish pastries.
The only caveat here is that the less expensive rooms have the bed shoved up to a wall. This means one of you will crawl in and out from the foot of the bed. Next time, I would stay at the same hotel but pay a little more for a bit more space.
Relax, Play Tourist, Drink Beer
The hotel location, however, was perfect. NyHavn runs along a canal and was once a seedy, sailor haunt. Now it could be called Tourist Haven, and we were happy to be tourists, to walk along the canal past the multi-colored, elbow-to-elbow buildings and the moored sailboats, to people watch and stop for a beer.
The beer. The problem may be that I expected more. In Ireland, for example, a pint of Guinness on draft is worth the flight over. In the States, a flight of local boutique beers is worth 30 minutes of conversation. In Copenhagen, the choice was Carlsberg or Tuborg—dull and duller.
Still, I drank the beer. It was cool and light—so at least it didn't distract from the herring.
Up Next: The Little Mermaid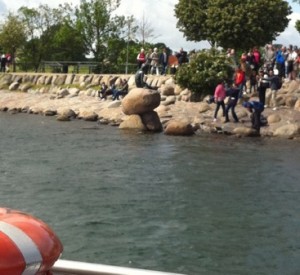 For years I was in company with the shamed dogs on Facebook because it took me years to finally go to the top of the Eiffel Tower in Paris. It wasn't that I necessarily wanted to see the Little Mermaid here in Copenhagen—I felt I had to. So I moved on to that item from the original list.
Luckily, we decided to take a one-hour boat tour along the canals (88 Danish krona or $13). Luckily, Joe told me with a confident nod to sit on the right side of the boat. (The man can make friends with and get tips from a lamppost, so I don't know where he got this piece of information.)
The tour guide spoke good English, like everyone we ran into in Copenhagen. We sat with other tourists as we glided by historic buildings, the oft-named best-restaurant-in-the-world, Noma, the modern Copenhagen Opera House, more historic buildings, and then—right there on the right side—the Little Mermaid.
A small crowd of tourists on land was trying to ease closer onto the boulders for a close-up of the mermaid's front. I got a photo of her back. Done. On to Tivoli Gardens.
Good Museums Are That-a-Way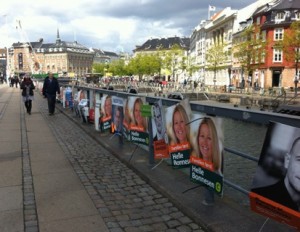 Copenhagen is fairly small, laced with canals and short, winding streets. Rather than hold the map like Boy Scouts trying to find north, we put the map away, headed that-a-way, and meandered toward Tivoli Gardens.
Walking is wonderful in Copenhagen where drivers are the minority and bicycles rule. We passed pedestrian-level posters promoting (mostly women, it seemed) candidates for the upcoming elections. Always-friendly locals went out of their way to direct us, and we were almost at Tivoli Gardens when we found ourselves in front of the adjacent Ny Carlsberg Glyptotek museum and decided to visit.
In so many ways, this was a good decision. The Glyptotek is a moderate-size museum but houses a good collection of European art including Egyptian artifacts, classic sculptures, a whole room devoted to the complete collection of maybe 70 bronze sculptures by Degas, French Impressionist paintings, plus a portrait of Denmark's Bertel Thorvaldsen. Never heard of him? Neither had we.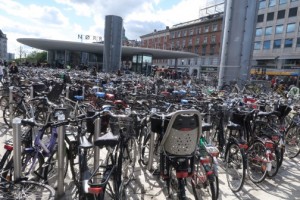 (The day before we had chanced upon the Thorvaldsen Museum devoted to the artist's mostly neoclassic sculptures. The guard there looked me straight in the eye as he explained, no doubt his job assignment, that Thorvaldsen is Denmark's "most famous artist." I returned the stare, hoping I didn't look like an American kid caught in a world geography quiz. Thorvaldsen? Yes, of course …)
Herring Three Ways
But back to the Glyptotek museum. It's worth the trip, especially considering the lovely cafe in the center. The mezzanine-level cafe with about a dozen tables overlooks a lush garden with three-story palm trees. The menu is limited but one of the choices was herring three ways: marinated with onions and capers, curried, and spiced.
The curry had no spicy heat, which was disappointing. The spiced version was on the sweet side with what I call cookie spices such as allspice, cinnamon, and cloves. But the vinegar-marinated version stole my heart. As usual, the herring was served with that excellent dark rye bread, studded with nuts.
Tivoli Gardens, a Pre-Disney Playground
Tivoli Gardens was the only item left to conquer from the original list. I understand why my friends suggested it, and I would suggest it, too. For an hour. Unless you have kids, and then you would extend the visit by another hour.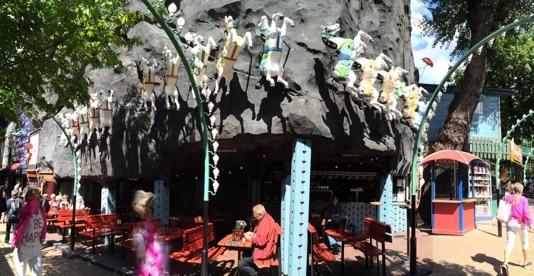 Walt Disney got inspiration for Disneyland from Tivoli Gardens theme park and I can guess which parts: an enclosed, safe space; richly landscaped areas with wide walkways; large amusement rides; Chinatown here, ponies and pirates there.
Tivoli Gardens, however, has more prominent options than Disneyland for nicer sit-down dining. As soon as you enter, there are several large restaurants on your left. We had already eaten, but we checked the menu, looking for … herring. Yes! That's good to know.
And can we also get great herring back in Paris? Surely the answer is yes. We are on the hunt, but I almost wish we won't find them .
Travel Details
• Copenhagen Strand hotel, Havnegade 37
• Thorvaldsens Museum, Bertel Thorvaldsens Plads 2
• Ny Carlsberg Glyptotek museum and cafe, Dantes Plads 7
• Tivoli Gardens, Vesterbrogade 3. Adult entrance, 99 DK ($15)
What I Brought Back
• A Little Mermaid snow globe
• Various Danish krona coins, some with holes in the middle
• Skole-Kridt licorice for a friend (Well, there goes that surprise …)
• Jars of marinated herring
• Two hand-painted Royal Copenhagen porcelain eggcups. 219 DK ($33 each)
Later, when I looked more closely, I discovered that the delicate, blue cups were designed in Denmark but made in Thailand—hence the reasonable price. (A stunning cup and saucer, behind locked glass, was an equally stunning 1,405 euros, or $1,545.) I still love my eggcups. The saleswoman at the Royal Copenhagen ("Purveyor to Her Majesty the Queen of Denmark") flagship store told me that if I broke them within two years, I could come back to Copenhagen and get them replaced for free. "Beautiful, beautiful, Co-pen-ha-gen …"
The photos: (The good ones, like that lovely shot of NyHavn, by Joe Prendergast; the herring and mermaid by me.) From top, herring three ways plus that great Danish bread at the Ny Carlsberg Glyptotek cafe; uber-charming NyHavn—where, by the way, you find the boat tours; a $1,545 Royal Copenhagen cup and saucer; gliding by the Little Mermaid; political posters in downtown Copenhagen; bicycles outside the Norreport metro station, the busiest in Denmark, a country where 50% of the residents commute by bike;
Tivoli Gardens.
To email or to unsubscribe: info@www.pariscafewriting.com
Copyright 2015 Paris Cafe Writing—All Rights Reserved