Coffitivity: An App for Café Sounds
By Patricia Tennison
www.ParisCafeWriting.com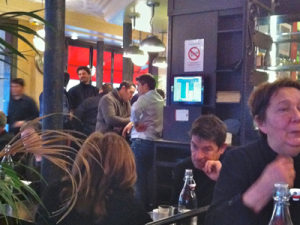 Ever notice how perfect a coffee shop or café is for writing? You can be alone in the midst of a crowd while your ideas float and bounce against the din.
It's noisy, but not too noisy. The sounds are familiar but not intrusive. It's an ideal background that should be packaged to go—and now that's been done!
Coffitivity started as a website where you can tune in to the ambient sounds of a coffee shop while you work, and it now offers one of the coolest apps to come out this year. Go to www.Coffitivity.com and try it out for free.
(The word is spreading about this site and the traffic has caused some server problems, so you might have to be a little patient.)
When you tune in, you'll hear the familiar clinking and chattering of a coffee shop or café, with voices so low that it's hard to decipher what language is used. If you listen hard, you'll hear it's English, but the Coffitivity creators apparently have plans to reproduce it in other languages as well. (I find it much easier to tune out French in a Paris café—that is, I don't catch a lot of the background French when people mumble and talk low—so I'll be looking for that French version.)
The Coffitivity coffee shop noise is set at 70 decibels, which seems to be the magic point between 50 decibels (the level of raindrops, ideal for detailed work, but too low for creative thinking) and 85 decibels (the level of a vacuum cleaner, which is a turn-off for many reasons).
The website founders work at Virginia Commonwealth University in Richmond, Va., where they reportedly first recorded the sounds at the Harrison Street Cafe, according to Yelp, a "hipster" vegetarian spot with great beer-battered tofu. Well, okay. They then listened to the coffee shop din while they created the Coffitivity program. Perfect!
When the Coffitivity app for iPhones and iPads came out this year, it was free, but now it costs $1.99. Still much cheaper than the infamous 5-euro coffees along the Champs Elysées.
Swing into Paris for 3 minutes
For an essence of Paris—and this time totally free—click below to watch this charming and poignant slide show set to Mildred Bailey's swinging '30s version of "I See Your Face Before Me":
https://www.facebook.com/photo.php?v=10151450660277452&set=vb.569012451&type=2&theater
It was created by Leilani Barnett of Dallas, one of our 2013 Paris Café Writing participants who modestly apologized for using just her "shattered" iPhone camera to capture the city. It just proves again that talent doesn't need fancy equipment—or a fancy workplace.
The photos: The left and middle: patrons writing and dining at Comptoir Turenne, 70 rue de Turenne, Paris; right, Paris Cafe Writing participant Peter Sherwood of Australia, writing at Le Bistrot Gourmand, 1 rue DuPuis, Paris.
To email or to unsubscribe: info@www.pariscafewriting.com
Copyright 2010 Paris Café Writing–All Rights Reserved