How to (maybe) beat the lines in Paris
By Patricia Tennison
www.ParisCafeWriting.com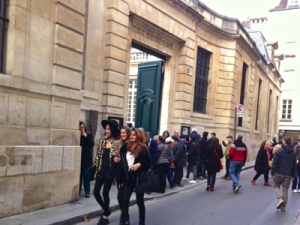 High-season summer months can doom you to long lines at popular Paris tourist sites—but not necessarily.
If you love to plan ahead and don't mind paying a few extra euros, buy a Museum Pass (see links below) for many of these sites. You will still wait in line, but a shorter line.
However, if you planned too late or prefer to just wing it, don't despair. (Unless you are really into skulls. For that Paris Catacombs scene, as you will see below, you will wait an eternity.)
This summer—this very hot summer—we found ourselves without reserved tickets to five hot tourist spots in Paris. Here's what happened:
Picasso Museum
The situation
After a five-year, much-delayed, much-anticipated renovation, the Picasso Museum finally re-opened in late fall 2014. My apartment is just a 10-minute walk away, so last fall I passed it often.
Then, two long lines wove inside the courtyard then out onto the sidewalk, one for reserved and one for unreserved tickets. I did a few exit interviews and those with reserved tickets still had to wait an hour.
I walked by on mornings, afternoons, sunny days, rainy days. People were waiting in the rain for hours! I decided to wait until the next year.
On a whim this summer, I turned the corner again expecting to find an even longer high-season line but—quoi!—there was no line. The rush is over. We walked right in!
Yes, you can drop your stress level to zero if you have a Paris Museum Pass or if you go online for the Picasso Museum and reserve a spot, conveniently arranged by the half-hour.
To increase your chance that you will have the same luck without reservations or a pass, try going on a sunny day, late afternoon.
Waiting time without reservations or pass: Zero minutes.
Is it worth it?
Yes. With the renovation, the museum has doubled its space so the collection of 5,000 works of art—not all displayed at the same time!—feels less jumbled. Picasso's works are arranged chronologically, starting with the early blue period, and include paintings, pottery, and sculptures. By the time you walk through the 40 rooms and reach his own collection of African art, it becomes vividly clear how much that African art influenced his own.
The museum is in the 17th century Hotel Sale, a former mansion that belonged to the Paris government. For the 12.50 euro entrance fee, you get to stand before the Picasso art amid the massive old beams and broad stairways of the former mansion-turned-museum.
Eiffel Tower
The situation
The situation here, my friends, is dire. About 7 million people a year—or 20,000 a day—trek to the Eiffel Tower, so you will want a reservation.
Tickets, which can be purchased in advance, are needed if you want to even walk the 704 stairs to the second floor (7 euros). The elevator tickets take you to the 2nd floor (11 euros) or the top (17 euros). You should reserve at least two months ahead. Otherwise, you will be waiting in a line long enough to make an assortment of new international friends.
Note: Even if you have reserved tickets, you will still wait in a security line.
One way to avoid the mess is to dig deep, go online and pay for one of many tours. You can also buy lunch (42 euros) or dinner (85 euros) at the 58 Tour Eiffel brasserie, which includes priority access to its 1st floor site; or lunch (105 euros) or dinner ( 190 or 230 euros) at the Jules Verne restaurant, which has a private access to its 2nd floor site. But you will need … reservations. Well ahead.
(We tried the Michelin-star Jules Verne a couple years ago to see whether it's worth recommending. It's not. I suspect that 58 Tour Eiffel offers the same flawed, touristy experience. Eat elsewhere.)
Several times this summer we had friends passing through who, well, screwed up. We could only sympathize, give them a Gallic shrug, and later ask how long they waited in line.
Waiting time without reservations or pass: 1.5 to 3 hours.
Is it worth it?
I think you get a full 60 percent of the thrill by just standing at the base and looking up. Mentally block out the lines of tourists and the hustlers trying to sell souvenirs to the tourists—and just look up.
If you arrive off-season or otherwise note a short line then, sure, buy a ticket to the top. You'll be more than 900 feet above ground level with a stunning, panoramic view of Paris.
Louvre
The situation
On a rainy Monday in July, which is close to a worst-case scenario for visiting museums, I was meeting friends who had cleverly pre-purchased tickets. I had not. This was a good chance to try an alternative to the popular Pyramid route.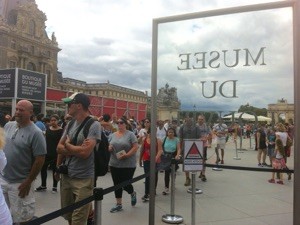 It worked. Here's what you do:
Exit the Metro at the Palais Royal-Musee stop (not the Louvre-Rivoli stop). Walk in the direction against traffic about 3 minutes to 99 rue Rivoli. This is an entrance to the Carousel.
Go down three escalators. Go straight ahead amid many art and coffee stores on either side, and get in line. This is a security line and the longest line you will be in.
After waiting for security, you will walk a bit and find yourself under the Pyramid. The entrances to the Richelieu and Sully portions of the Louvre are in either direction. In the middle is a booth to buy tickets, that day with a line of only about 30 people.
However, you can skip that ticket line by using a credit card to pay 12 euros at one of the several adjacent ticket machines, where this time there was no wait.
Voilà!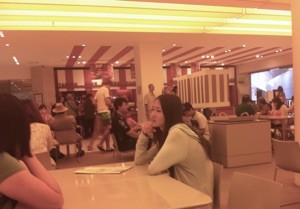 Waiting time without reservations or pass:
17 minutes.
Is it worth it?:
The Louvre is worth the visit, bien sûr, and when the Carousel entrance gets you in so quickly it's worth it to wing it without reservations.
Tip: A good meeting place is the Cafes de la Pyramid on the mezzanine level of the Richelieu wing. It's not pretty. The food isn't good. And perhaps for those two reasons it's not crowded in the morning, although it does fill up about noon. You don't need a museum ticket to enter.
Catacombs
The situation
For years I have been shaking my head in amazement at the l-o-n-g lines to enter this place near the Denfert Rochereau Metro stop. Pay 10 euros to go underground to see the bones of 6 million Parisians "artfully" arranged by skulls or femurs? And wait three or four hours to get in? And once you get in, it's cold and there are no toilets?
This summer we had an American teenage guest who was dying for the adventure, and I suspect that the promised long line is part of the rite of passage. My husband, Joe, gladly volunteered.
I remain a Catacombs virgin.
Waiting time without reservations or pass: 3 hours.
Is it worth it?
Everyone else seems to love the experience. Even the line.
Note: You cannot use the Paris Museum Pass to avoid the line. You cannot bribe the ticket guy. (Joe saw someone's failed attempt.) You can, however, buy a reserved time-slot ticket online if you plan weeks ahead. You can also pay a tour company that will get you to the front of the line. Now that's perhaps tempting …
Disneyland
The situation
I love Disneyland. I've been to Disney World in Orlando many times, and when my daughter was a teenager we had a great time at Disneyland Paris. So I raised my hand fast this summer when our American teenage guest wanted to go.
(Joe remains a Disneyland Paris virgin.)
We did not pre-purchase tickets for the theme park. We just hopped on the RER A train from Paris for the 35-minute ride to Marne la Vallée. "It's Disney," I figured. "They know how to handle lines."
Waiting time without reservations or pass: 2 minutes.
Is it worth it?
Is this not a small, small world? Yes, it's worth it!
When we arrived, we could have stood in a line of maybe 10 people to buy tickets. However, we used one of those tricks for finding a theater seat: Don't go straight and don't go right. Go left. The ticket booth to the left had just one person in line.
I paid 75 euros per adult ticket. I could have gotten a better price had I done some research and purchased online. But that, dear friends, is the penalty for winging it.
Links:
• Paris Museum Pass: www.parismuseumpass.com
If you are planning on visiting at least two museums a day, it's worth the money—and reduced waiting time!—to buy a two-day pass for 42 euros. The pass includes about 60 museums, including the Pompidou (13 euros), Picasso (12.50 euros), Louvre (12 euros), d'Orsay (9 euros), and Rodin (7 euros).
The pass does not include the Eiffel Tower or the Catacombs. Note: Do not confuse this with the Paris Pass, which is more for transportation.
When you get to the website, click on the tiny American flag top right for English.
• Picasso Museum: www.museepicassoparis.fr/en
• Eiffel Tower: www.toureiffel.paris/en
• Louvre: www.louvre.fr/en
• Catacombs: www.catacombes.paris.fr/en
• Disneyland Paris: www.disneylandparis.com
The photos: From top, (center), overflowing crowds for the Picasso Museum re-opening in winter, 2014; (right), zero waiting time at the Picasso Museum in summer, 2015; lines at the outside, crowded Pyramid entrance to the Louvre; Cafes de la Pyramid, an easier place in the Louvre to meet friends than, say, near the Mona Lisa.
To email or to unsubscribe: info@www.pariscafewriting.com
Copyright 2015 Paris Cafe Writing—All Rights Reserved