Old-World Stationery Shops Where Touching Is de Rigueur
By Patricia Tennison
www.ParisCafeWriting.com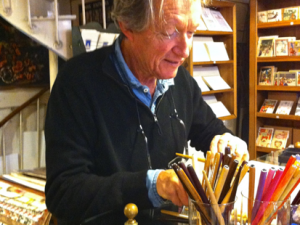 I needed some fine stationery for thank you notes, not a box of standard blue Crane's from Macy's but individual sheets of handcrafted, buttery paper—the kind you pick up at old-world specialty boutiques in the Marais.
Why the thank you notes? I am sending a handwritten note to each person who contributes to the Paris Cafe Writers' scholarship fund. (See the Donate button below.)
Yes, the world has changed. The Internet, Skype, email, the price of stamps, the lack of penmanship in schools, all have helped fade the art of the handwritten note on fine paper.
However, some of us persevere.
Let's start with the stationery. Paris still has many scattered little papeteries but the best-known center for the fine shops is on rue du Pont Louis-Philippe in the Marais. This is a one-block street on the Right Bank, basically an extension of rue Vieille du Temple as you walk south and cross rue Rivoli on your way to Ile St. Louis. The closest Metros are St. Paul or Pont Marie.
I'll take you there.
Calligrane
Calligrane is the most honored name among the stores here and with good reason. It feels like a shrine to quality paper. The displays are white on white, and as you tiptoe over to touch each sample, your blood pressure lowers like you're petting a cat.
The customer before me was buying a couple large sheets from the many trays of loose paper. Indeed, artists who work in paper are among the regular clientele.
Calligrane started in Cannes in 1979, and at one time there were four stores in Paris. However, for 16 years there is now just this one on rue du Pont Louis-Philippe. This one used to be larger and included the space next door, now a chocolate store.
I was tempted by some soft cotton notepaper from India, but ultimately succumbed to delicately textured cards (2 euros each) and envelopes (1.80 each) from Japan.
Calligrane
6, rue du Pont Louis-Philippe
75004 Paris
01.48.04.09.00
www.calligrane.fr
contact@calligrane.fr
Hours: noon to 7 p.m., Tuesday-Saturday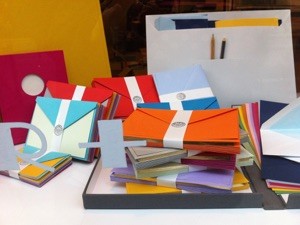 Melodies Graphiques
My favorite shop, Melodies Graphiques, is not the best known, probably because it has no website, no email, no shipping. But it has a génial owner who loves his trade.
"People who come here want to touch," said owner Eric de Tugny, who keeps himself busy so you can meander—and touch. The shelves are stacked with writing paper, vintage postcards, loose sheets of patterned Italian wrapping paper, and bound books of blank paper. In the center is a jumble of pens and pencils and nibs for fine fountain pens and calligraphy.
De Tugny, a calligrapher, has been operating Melodies Graphiques for 27 years. His products come mostly from western Europe.
After 20 minutes of browsing and talking about stationery and calligraphy and the marathon that he ran in Chicago, I walked out with some ivory-toned letter paper and envelopes from Italy (18 euros for a set of 10) and a bound book of paper from Germany (10 euros).
The book has a creamy-to-the-touch red cover and a little black ribbon to mark a page. There is nothing yet written or drawn on any of the pages, but the cover is engraved with this irresistible title:
Tradition notebook
Witch and Wizard
Precious memories
Magic spells
line note, idea, memo, drawing
I have no idea what I will do with that book, but now it is mine.
Link: It appears to be an ad for Visa, but I like this short feature on Melodies Graphiques:
http://vimeo.com/28325720
Melodies Graphiques
10, rue du Pont Louis-Philippe
75004, Paris
phone: 01.42.74.57.68
Hours: 11 a.m. to 7 p.m., Tuesday-Saturday
Papier Plus
The young clerk proudly noted that this Papier Plus store is the oldest stationery shop on rue du Pont Louis-Philippe, here for more than 40 years.
As in the other two shops, there was just one person working and just one customer ahead of me. Here the customer was a high-school-age girl with an American accent. She thought aloud as she tested drawing pencils in a dozen different shades: "This would be good for flesh tones, this would be good for …"
I waited. The two adults with her waited. It's just one of those things you do with your time in Paris.
Meanwhile, I kept looking at the displays of photo albums, right at eye level, all around the store. They are bound in heavy canvas and come in small, medium, and large; rectangular and oblong; in black and red and violet and blue and … suddenly I had to have one.
In this age of iPhones and computer-made albums, do people still buy these paper albums? "Oh, yes," said the clerk. "They like the feel of them."
I had come for notepaper—and they have a lovely collection—but I walked out with a small, French-made, old-fashioned photo album in autumn red designed with a creative see-through hole on the cover (35 euros).
Papier Plus
9, rue du Pont Louis-Philippe
75004 Paris
phone: 01.42.77.70.49
www.papierplus.com
papierplus@papierplus.com
Hours: noon to 7 p.m., Monday-Saturday
The photos: From top, Eric de Tugny, owner of Melodies Graphiques; a corner of rue du Pont Louis-Philippe; textured, white notepaper from Japan and an artistic paper slipper at Calligrane; the Melodies Graphiques shop; at Papier Plus, a display of all French-made colorful papers, boxes, and that red album with the intriguing hole on the cover.
The Scholarship
Paris Café Writing and National Louis University, Chicago, have started a scholarship fund to send a graduate student to write in Paris in 2015.
With your and my donations, we have just passed the halfway mark! To make a tax-deductible donation to the NLU fund, please click here DONATE
To email or to unsubscribe: info@www.pariscafewriting.com
Copyright 2010 Paris Cafe Writing—All Rights Reserved