Paris Stays Strong After Nov. 13
By Patricia Tennison
www.ParisCafeWriting.com
It's quiet here at 9 a.m. in Paris, but it's always quiet on a Sunday morning. A few patrons are inside at the corner cafe sipping coffee at the counter, others read outside, smoking. The boulangerie is open. I bought a baguette, and then as I passed the butcher shop, on a whim, a freshly roasted chicken.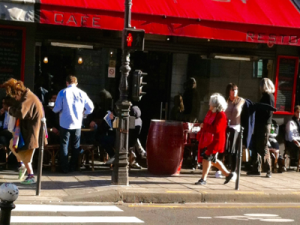 Friday, Nov. 13 was a night off for the 10 Americans who were finishing a week with me here for Paris Cafe Writing. When the explosions and shootings started at 9:20 p.m. that night, a few of them were at the Lido cabaret on the Champs-Élysées, cellphones off and unaware until their cab driver picked them up. He wove them around barricaded streets and ultimately the wrong way up one-way streets to their hotel in our Marais neighborhood. Another couple, communications off, had settled into their rented apartment to continue a writing assignment.
I went tap dancing. When the tap class let out about 8:30 p.m., I stood on rue Keller in the 11th arrondissement. I love to decide at the last moment which way I will turn. If I turned right and looked for a cafe that way, I would have been on rue Charonne, where a few of us on Thursday night went to hear some jazz manouche, down the street from La Belle Equipe, where at 9:36 p.m. Friday gunmen in a black vehicle would kill 19 people sitting on the terrace. I turned left.
I was sleeping when my daughter called me from Colorado to see whether I was okay. It was only then that I heard about the horrific attacks here in Paris. She knew that the Bataclan theater, where at 9:40 p.m. at least 89 people were killed, was just a six-minute walk from our apartment.
On Saturday morning, I changed several plans for the group. Instead of meeting to write in a broad, corner cafe—which, it turned out, was shuttered—we packed into my small apartment, filling the couch, all the chairs, the bed. There was a comfort in the closeness as we processed what had happened.
I cancelled our trip to see the Cirque d' Hiver, the winter circus, in its stunning Napoleon-era monument building in the 11th. I cancelled our final dinner at the famous Bofinger, "the most beautiful brasserie" in Paris.
We returned to our favorite, non-touristy little restaurant, Le Cellar on rue Crussol, and filled the dining space in the vaulted cellar. Joe wrote me from China that he would pop for the Champagne. But first, one of the women rose and read a prayer of peace.
Staying strong in Paris.
Patty
To email or to unsubscribe: info@www.pariscafewriting.com
Copyright 2015 Paris Cafe Writing—All Rights Reserved