Place de la République Gets an Update
By Patricia Tennison
www.ParisCafeWriting.com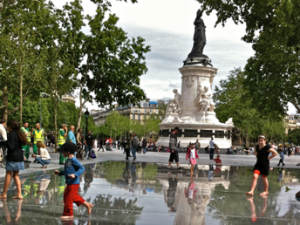 The newly renovated Place de la République is alive with outdoor seating, a café, and children splashing in a reflecting pool.
I live within easy walking distance to the Haussmann-era square in the very northern Marais that connects the 3rd, 10th, and 11th arrondissements—as well as four boulevards and seven streets.
Drivers used to circle the place, change lanes like mad, and frighten even the French into honoring pedestrian walk signs.
Politics of cars vs. walkers
Now pedestrians rule. Under Paris's Socialist Mayor Bertrand Delanöe, the area for traffic has shrunk and the open space has increased so that Place de la République is now one of the largest pedestrian squares in Paris.
(Critics bemoan its boring "German industrial" design. But as Delanöe protege Anne Hidalgo now follows him into office this year, she has already said that she'd like next to renovate Place de la Bastille and Place de la Nation.)
Marianne got a bath
What hasn't changed is the huge statue of Marianne. Well, she has been cleaned up. Place de la République is a popular gathering point for the many French grèves before the strikers march toward Bastille. The demonstrators used to hang banners from the 19th century bronze statue, leaving footprints and graffiti on this classic symbol of the republic.
The cleaned-up Marianne—still facing south, thank goodness, because she is my directional beacon here—is now surrounded by a new water basin that makes it a bit harder to climb her.
I can understand the criticism of the massive amount of concrete slabs used to create the center. It looks forlorn when empty. However, the many new honey locust trees are growing, and when the weather is good, people also soften the landscape. Small children took immediately to a shallow plane of water near Marianne, and older kids skateboard in the open space. To encourage more families, there is even a kiosk where you can rent small toys.
If you find yourself on one of the five Metro lines that pass under République, walk upstairs and take a look.
3rd Best Baguette in Paris
Another reason to browse the République area is a boulangerie at 134 rue de Turenne—aptly named 134 RdT—where owner Benjamin Turquier has won third place Best Baguette in Paris 2014. He's been in the top few before for both his baguettes and his croissants. For those who know the area, the shop is adjacent to the Hotel Americain and across from the chocolatier Jacques Genin.
Young love at République
And to round out our focus on République, here's a contemporary song by Quebec pop artist Béatrice Martin (stage name, Coeur de pirate). Early in the music video, she ascends from the République Metro stop and walks north along the Canal Saint-Martin, saddened by a too-brief love.
https://www.youtube.com/watch?v=qyuPn4DPCdA
Who won the umbrella?
"Oh wow!!! That's awesome! I never win anything!! Woot! Woot!"
That was the response from VersAnnette Blackman, book group leader at Literature for All of Us, a nonprofit organization that promotes literacy among young people in the Chicago area.
Blackman stopped by the Paris Café Writing table at the March Association of Writers & Writers Programs conference in Seattle and now owns the drawing prize, a beautiful Paris umbrella—just in time for April showers.
The photos: From left to right, toys for rent at a kiosk at Place de la République; children play in a reflective pool near the statue of Marianne at Place de la République; the 134 RdT boulangerie, 134 rue de Turenne, 75003.
To email or to unsubscribe: info@www.pariscafewriting.com
Copyright 2010 Paris Café Writing–All Rights Reserved