The Kilo Shop: A New Weigh to Buy
By Patricia Tennison
www.ParisCafeWriting.com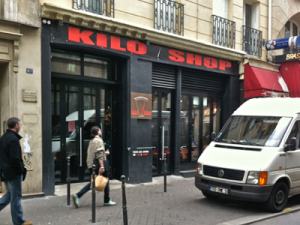 I was at a dinner party with four of those wonderfully chic French women when one of them cooed a compliment across the table.
"I love your scarf," she said, as all eyes followed her to the slim blonde.
"Ah," the blonde said. "It was pas cher. I bought this and a pair of jeans for almost nothing. It's a new shop in the Marais where you pay for the clothes that you want—by the kilo."
Now all ears were on her.
The hunt for a good buy
She couldn't remember the name of the shop or the exact address, but it was "that way" from the large department store BHV. The next morning, I was off.
I circled BHV and quickly recognized it—the Kilo Shop at 69-71, rue de la Verrerie in the 4th arrondissement. Good name. It looked dark so I got up close to read the hours: open every day but not until 11 a.m.
I circled back to a cafe and cooled my heels for an hour while I berated myself for being so American. It seems nothing opens at 9 a.m. in Paris. Even BHV doesn't open until 9:30. An American would think that 10 a.m. is safe, mais non.
How do they make any money?
When I saw the crowd at the Kilo Shop shortly after the doors opened at 11 a.m., I understood. There is a thrill to a bargain. There is a thrill to piles of stuff where only you will discover the treasure. The crowd was young, mostly 20-year-olds. And some were already at the cash register, weighing their purchases.
That's right: you pay by the weight. The merchandise is color-coded. For example, those items with a green label cost 30 euros per kilo. Those with a red label cost 20 euros per kilo. For a purse that weighs 400 grams, that comes to 8 euros or about $10.24. A 1-kilo leather jacket would be 20 euros or $25.60.
And there's lots of leather. And furs. And jeans. And wigs! And racks of blouses, dresses, men's shirts, jackets. Piles of shoes, and bins of ... ties.
Men don't wear ties anymore. That was the topic of a delightful essay by one of my Paris Café Writing students, so I smiled as I rummaged through that bin. There were some truly ridiculous looking ties but I'm sure that I found the worst: a navy blue tie covered with cartoon bears. 100% polyester, dry clean only. (No problem: I'm sure that no one I know will ever wear this tie.) I don't know why I bought it.
And I'm not sure why I bought the black and white polka dot skirt (made in Madrid, with a cute flouncy bottom) or the lavender scarf. Actually, I do know why I bought them—I wanted to pay by the kilo!
I roamed my way back through the large two-level friperie (second-hand store), crammed with clean, old ("vintage") and new (mostly foreign) merchandise and I had to wait in line to pay for the three items: 9.85 euros, or $12.60.
Think of it ... as entertainment. Or the perfect spot to pick up a funky gift or—if you are naturally chic—prep for a dinner party.
There is another Kilo store at 125, boulevard Saint Germain in the 6th.
See www.kilo-shop.fr
For an armchair trip, catch this video: www.youtube.com/watch?v=3w34ziApwYg
Who won the umbrella?
The stunning umbrella that I bought at Parapluies Simon in Paris that was the subject of the previous newsletter stole the scene at our Paris Café Writing table at the AWP writers' convention this month in Boston.
The lucky raffle winner is Cheyenne, a 20-something student at Eastern Oregon University. Congratulations, Cheyenne!
The photos: All at the Kilo Store, 69-71, rue de la Verrerie 75004 in Paris, from left to right: an in-store display with a veste en cuir (leather jacket); exterior; randomly arranged shoes.
To email or to unsubscribe: info@www.pariscafewriting.com
Copyright 2010 Paris Café Writing–All Rights Reserved