Wednesday School for Kids
By Patricia Tennison
www.ParisCafeWriting.com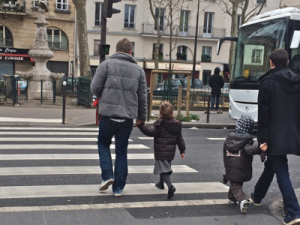 Wednesdays in Paris have had a special rhythm: Movie schedules change that day, Pariscope entertainment magazine goes on sale in kiosks—and children appear everywhere on their day off from school.
You can see kids on Wednesday heading to the circus with their parents (see above photo), filling the parks, or maybe on the night before eating out with their family.
But that no-school-on-Wednesday tradition is changing.
The French government has ruled that children must now go to school five days a week, Monday through Friday, and the various school districts serving children ages 3 to 11 are supposed to comply in 2014. (Older children already go Monday to Friday.)
Catholic origins
The tradition goes back more than 100 years when schools were closed on Wednesdays to give children time for catechism classes by the Roman Catholic Church, and public schools opened on Saturdays to make up the regular class time. France, however, has become more secular and those Wednesdays are more often spent for piano or le foot (soccer) lessons. Also, in 2008, the Saturday classes fell away, leaving the students with only four school days—very long days, typically 9 a.m. to 4:30 p.m.—on Mondays, Tuesdays, Thursdays, and Fridays.
Adding Wednesday, even for a half day, allows the schools to shorten the hours on the other four days.
A French working mother confided to me that the move is good because she will no longer need expensive childcare on Wednesdays. However, the change upsets many.
A free Wednesday has been a tradition, one that has allowed the students a day to take those music or sports lessons. Some parents arrange their 35-hour workweek to make Wednesdays a family day. And teachers who must now work on Wednesdays have been going on strike.
This is the year that Wednesday may earn its name—day of woe.
AWP convention in Seattle
Paris Café Writing will be at the Association of Writers & Writing Programs (AWP) convention Feb. 26 to March 1 at the Washington State Convention Center in Seattle.
About 12,000 writers and readers mingle at the AWP convention, which always includes great speakers such as this year's headliner, novelist Annie Proulx.
Come by our table (S20) for a chance to win the romantic Parisian umbrella pictured above!
For more information, see www.awpwriter.org.
The photos: Left and right: the Parisian umbrella that someone will win at the AWP convention in Seattle; children head to the circus on a Wednesday in Paris.
To email or to unsubscribe: info@www.pariscafewriting.com
Copyright 2010 Paris Café Writing–All Rights Reserved